VILLAGE NAME: PATTIKKADU
Pattikkadu is like any other Indian village, characterized by poverty, low level of productivity and lack of basic amenities. There is lack of literacy, primary education and female participation in social activities.
Amidst such a gloomy scenario we found a few bright eyes in the village, full of passion, eager to learn and bursting with energy: the children at Pattikkadu. The team was finding it very difficult to connect with the elders in the village. The children acted as a bridge between us and the elders; the vibrant messengers who carried our messages to their families. We started with helping the children in their studies, organizing games, e-learning sessions and personal hygiene tutorials.
When the team started organizing various small skits to communicate the harmful effects of social evils to the children, we observed that their parents were also drawn towards the skits. It was then that we decided to use this platform to educate the families about the ill effects of various social evils such as smoking and drinking, the importance of cleanliness and of natural resources. With every passing skit the audience increased, the villagers now seem to enjoy, understand and appreciate the cause.
The next major initiative that team Pattikkadu took up was the implementation of kitchen gardens in the village. The initiative had a multi-fold agenda viz. creating awareness about the health and monetary benefits of organic farming and generating awareness and concern about the rapidly declining ground water levels. It was initially difficult to convince the farmers about kitchen gardening, as growing vegetables was the main occupation of the farmers in some parts and doing the same in their backyards at such a small scale did not made sense for them. With repeated efforts to communicate the benefits of organic farming through videos and other educational material, the team was finally able to convince a few farmers to start the kitchen gardens and set the ball rolling. Kitchen garden is now being practiced by more than 15 households in Pattikaddu and the number is increasing every day.
Organizing health awareness camps, with on the spot detection and recommendations by experts, has been yet another significant initiative of the Pattikkadu team. These camps also ensure mass screening of suspected patients from rural pockets, so that they can receive timely treatment. With two health camps every three months, the team is eyeing to cover all four parts of the village at least twice.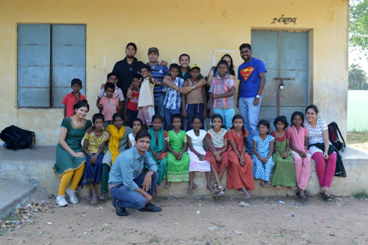 In a large country like ours, there is a limit to the reach of NGOs and other organizations. Team Pattikkadu believes that it needs to share its learning and in turn learn from the villagers to develop a mutually empowering framework.