Sustainability: Balancing the 3 E's - Economy, Environment & Ethics
As global perceptions change, sustainability is turning into a must for businesses. To meet the requirements of the present without sacrificing those of the future generations is to practice sustainability. Resources are scarce but needs are insatiable. It is absolutely necessary that 'we' must now not think of ways to only efficiently utilize these resources but also ways to replenish them.With this in mind, the theme for Sapience this year is based on balancing three core aspects of Sustainability - Economy, Environment, and Ethics. The deliberations for Sapience will cover the 3 E's through the lens of managing and applying resources and studying financial, organizational, and market-related challenges that confront businesses.
Date: 6th and 7th September, 2022
Venue: Great Lakes Institute of Management, Gurgaon
Keynote Address
6th Sep 2022 | Tuesday | 10:00 AM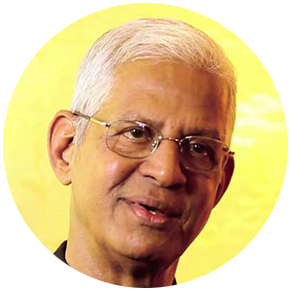 Dr. Mrityunjay Athreya
Author, Educationist and Management Advisor
Join us virtually for a session with the pioneer of Indian management movement and Padma Bhushan awardee Dr. Mrityunjay Athreya on 6th September 2022.
Register for Virtual Keynote Address

Entrepreneurship
6th Sep, 2022 | Tuesday | 11:30 AM - 1:00 PM
Entrepreneurship is closely linked to sustainable development. Wrong choice of product, services or technology by entrepreneurs can lead to adverse effects on users and factory workers, or damage to the environment. The panel will discuss the need of sensitizing the upcoming entrepreneurs about the concept of green products and ethical aspects of entrepreneurship for sustainable development.
Panelists
Mr Saurabh Singh, Co- Founder & CEO, Desmania
Panel Moderator

HR & OB
6th Sep, 2022 | Tuesday | 11:30 AM - 1:00 PM
As companies are trying to be more dynamic and sustainable, the role of Human Resource Management (HRM) has become more critical than ever. Achieving sustainability in any organizational setup is a combined effort between the employees and the business. The panel will discuss how this affects the HR sector along with the emergence of novel concepts including Sustainable HRM, Green HRM & Socially Responsible HRM.
Panelists
Mr Alvin David, Head - Campus Hiring & Employer Branding, Newgen Software
Ms Madhavi Pahwa, Chief People Officer, GroupM
Ms Neeti Kumar, Vice President & Head - HR, Adda247
Panel Moderator

Finance
6th Sep, 2022 | Tuesday | 2:00 - 3:30 PM
The future of finance is stakeholder capitalism. Company's financial decision-making needs to integrate all the environmental, social, and governance factors when making choices about where to allocate capital. The panel will delve into the concepts and working of ESG firms further to understand how the industry is transforming in the evolving ecosystem.
Panelists
Mr Sanjay Sharda, Executive Vice President & National Partner, IndusInd Bank
Panel Moderator

Marketing
6th Sep, 2022 | Tuesday | 2:00 - 3:30 PM
Consumer segments in the Asia-Pacific region are showing increasing concern about environmental, social, and corporate governance issues, at par with Europe and the USA. However, lack of information, poor availability and high prices act as deterrents in buying sustainable products. Therefore, the panel will discuss how, being in the APAC region, sustainability is an even more important strategic vision to be considered by marketers and brand owners.
Panelists
Mr Abhinav Chamoli, Director & Head of Strategy-Trust & Transformation, Grant Thornton
Mr Sumit Kumar Singh, Product, Growth & Gamification, Microsoft
Mr Chirag Bhatia, Senior Vice President-National Account Management Head-Digital, DDB Mudra
Mr Kunal Kapoor, Vice President-Client Engagement & Delivery, Merkle Sokrati
Mr Rajeev Sinha, CEO & Co-founder, ONLY GOOD and The Vanca
Panel Moderator
Analytics
7th Sep, 2022 | Wednesday | 10:00 - 11:30 AM
The power of data analytics during times of stress extends from lean functioning to precise targeting and delivery of objectives with minimum wastage. In some cases, the approach of data science has managed to provide reliable, real time low cost data that can solve complex problems. The panel will discuss how the world will be shaped in the coming decades based on how well we identify the role of AI-ML in the three E's- Environment, Economy and Ethics.
Panelists
Mr Vibhu Goenka, Vice President, EXL
Panel Moderator
Dr Bappaditya Mukhopadhyay

Operations
7th Sep, 2022 | Wednesday | 12:00 - 1:30 PM
Operations is about transforming inputs into value added outputs using people, processes, assets, material and money. The current world economy with the growing population continues to display insatiable hunger for material and service consumption leading to depletion of natural resources and thereby creating volatility in the economy. Owing to various reasons the 3 Es – Environment, Economy and Ethics are severely impacted by operations and need urgent attention. The panel discussion will shed light on different operational challenges faced by the society on sustainability with possible ways forward.
Panelists
Mr Avijit Das, Director & Head of Strategy-Trust & Transformation, Eveready South Africa
Mr Rakesh Sharma, Senior Vice President, Tata Tele Services
Ms Shubhra Puri, Founder, Gurgaon First
Ms Shruti Arora, Director, Pwc
Panel Moderator