Great Lakes Institute of Management, Gurgaon, hosted its annual management conclave, SAPIENCE, in October at its campus. The event, conducted as a series of 4 conclaves, was a huge success with panelists ranging from policy-makers to CEOs to startup founders who shared their perspectives with the Great Lakes community including students, faculty and industry guests.
SMAC Conclave
The confluence of Social, Mobile, Analytics, and Cloud (SMAC) has led to an explosion of technology adoption among consumers and enterprises.
What are the pros and cons for large enterprises to move to the cloud? How are entrepreneurs balancing between profitability and growth to reach sustainability? Headed by Mr Amarjit Singh Batra – Ex-CEO, OLX India, our panel comprising of experts from 91 Mobiles, HCL Technologies, Absolut Data and many more, gave answers to these pertinent questions amongst others.
Clockwise: Mr Amarjeet Singh Batra, Ex-CEO OLX; Mr Amit Singh, Co-founder, Shuttl and Staple Media Labs; Mr Chandrasekhar Venugopal, Vice- President, Restaurant Operations, Foodpanda; Mr Ramakrishnan M, Co-founder, Intello Labs
HR Conclave
Technology is radically changing the way we work, are our organizations ready for the Fourth Industrial Revolution?
Our expert panel headed by Mr. Pramod Sadarjoshi – Senior Director, HCM Strategy & Transformation, Asia- Pacific, ORACLE discussed the challenges, which will come along with this new tide of technology and shared their insights about plausible industry impacts on talent recruitment and utilization.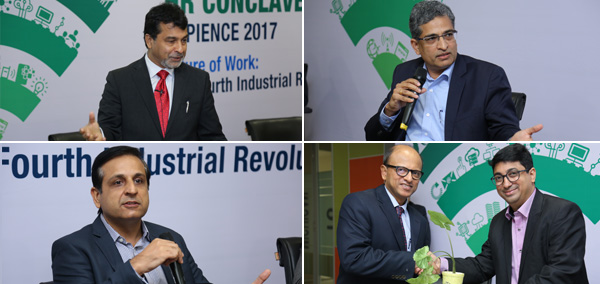 Clockwise: Mr Pramod Sadarjoshi, Senior Director - HCM & Transformation, Asia-Pacific, Oracle; Mr Srinivas S, Partner & Leader, Mercer; Mr Subhankar Ghose, Chief People Officer, Zoom Insurance Brokers Pvt Ltd; Mr Puneet Kalra, Managing Director, Russel Reynolds Associates
Financial Services Conclave
Will we see a significant reduction in branch banking leading to the closure of many branches? With rising NPAs and the entry of payment banks into the Indian banking system, are we poised for a banking renaissance?
The Financial Services Conclave flagged off by Dr. CS Mohapatra – Advisor, Ministry of Finance – Government of India, delved into these questions.
Clockwise: Dr CS Mohapatra, Advisor, Ministry of Finance - Government of India; Mr SSK Pradhan, General Manager, RBI; Dr. Sanjay Bahl, Director General, Computer Emergency Response Team (CERT), Government of India; Mr Gagan Sardana, Senior Vice-President, HDFC
Marketing Conclave
Technology has taken the world of marketing by a storm, supplemented with the latest advances in analytics , communication has become way more methodical than ever before.
Our panel headed by Mr Anirban Chaudhuri – Senior Vice President and Executive Planning Director, J.W. THOMPSON discussed how the practices of Marketing Communications have undergone a massive change due to disruption caused by the digital revolution.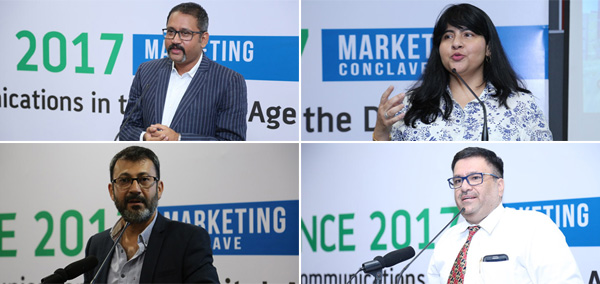 Clockwise: Mr Anirban Chaudhuri, Senior Vice-President and Executive Planning Director, J.W. Thompson; Ms Mausami Kar, Managing Partner, Group M; Mr Vivek Nanda, Business Head, Sharp Business Machines; Mr Rafi Q Khan, Executive Vice-President, Weber Shandwick