Sapience 2017 – SMAC – Annual Management Conclave
Panelists included Top industry leaders from leading organizations such as HCL Technologies, Oracle India, and start-ups such as Shuttl, 91Mobiles, foodpanda, HyperTrack, Intello Labs and so on.
Key Takeaways:



To survive, internet businesses will have to identify and solve India specific problems.
Businesses offering platforms for connecting the demand side and supply side are the future in internet business.
Cloud is the foundation of digital transformation; organizations will have to shift from on premises deployment to cloud deployment.
Data Analytics is playing a key role in making large business decisions.
Great Lakes Institute of Management, Gurgaon, hosted SAPIENCE 2017- SMAC Conclave at its campus. The Conclave was graced by the presence of Mr. Amarjit Singh Batra, CEO, OLX India as the keynote speaker. The theme of the SMAC Conclave was "SMAC and the Democratization of Technology Adoption". The Conclave witnessed 9 distinguished industry leaders discussing, "is the consumer spoiled for choice with co-founders fuelled by investors' money racing to solve consumer problems resulting in a proliferation of apps; and what are the pros and cons for large enterprises to move to the cloud?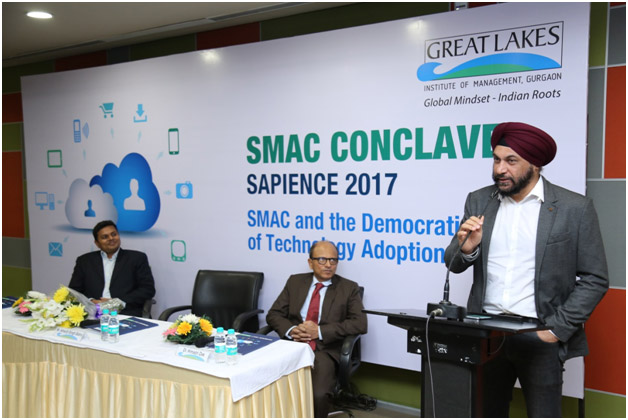 Mr. Amarjit Singh Batra, CEO, OLX India
Delivering the keynote address, Mr. Amarjit Singh Batra, CEO, OLX India, shared some anecdotes from his journey in Internet businesses. He said that, "internet business largely depends on three principles –firstly the Network effect, which is a very powerful mechanism. Once a large number of people become a part of something, the value of the product multiplies, Secondly, the internet businesses do not require large number of workforce as the core business transactions happens online. Thirdly, the scalability of internet business is huge vis-`a - vis offline business, in fact there is no limit to the space where you can expand." Further, he spoke about importance of understanding the local demography and the culture even while following a global business model, "at OLX we cashed in on the habit that people had already developed, that was, posting messages online, so we leveraged that and it helped us to make them post ads on the platform". He concluding on a note that "that internet business has tremendous opportunities in India, there is a lot of scope in a variety of verticals. Platforms connecting demand and supply are the future".
Dr. Himadri Das, Director, Great Lakes Institute of Management, Gurgaon
Addressing the gathering, Dr. Himadri Das, Director, Great Lakes Institute of Management, Gurgaon, expressed, "given that, Great Lakes Gurgaon , from the very beginning has had a very strong focus on contemporary technologies, the theme of the conclave has been decided continuing that trend. The first panel will talk about the consumer facing side and how the consumer is spoilt for choice and the second panel will focus on the enterprise side of the story focusing on how are established hardware and software product companies transforming their business models to benefit from the cloud,what insights are enterprises deriving from analytics that are leading to increase in revenues and/or decrease in costs?"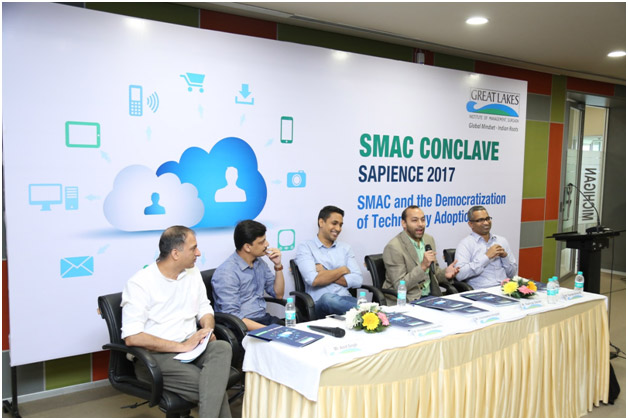 Panel Discussion:The consumer is like a kid in the candy store
Panelists:
Mr. Amit Singh, Co-founder, Shuttl and Staple Media Labs
Mr. Bharanidharan Viswanathan, CEO & Founder, 91 Mobiles
Mr. Chandrasekhar Venugopal, Vice President- Restaurant Operations, foodpanda
Mr. Ramakrishnan M, Co-Founder, Intello Labs
Mr. Kashyap Deorah, Co-founder HyperTrack, Serial Entrepreneur, and author of The Golden Tap
The discussion focused on questions –firstly, are consumers really spoilt for choice today? Secondly, how are entrepreneurs balancing between profitability and growth to reach sustainability? The panel opined that, yes, the consumer is the king today. The panel shared that Indian market and consumers have very unique problems. So, the businesses, in order to survive, should identify these specific problems and address them with unique solutions. The models that are straight copy of West will not be able to survive here. Further, the panel raised a question, why so many startups shut down? The panel suggested that companies that shut down, there is a pattern to that: they are trying to scale too fast too early, and not focusing on building a robust model but instead focusing on expansion that magnifies chinks in a weak business model. Lastly, the panel shared that the Indian start up scenario has changed and it is no more about raising money and burning in a race to become a unicorn. Today, the businesses should be built on the cockroach theory,first become robust to survive all hurdles, adapt to the changes and then gradually grow to become a unicorn.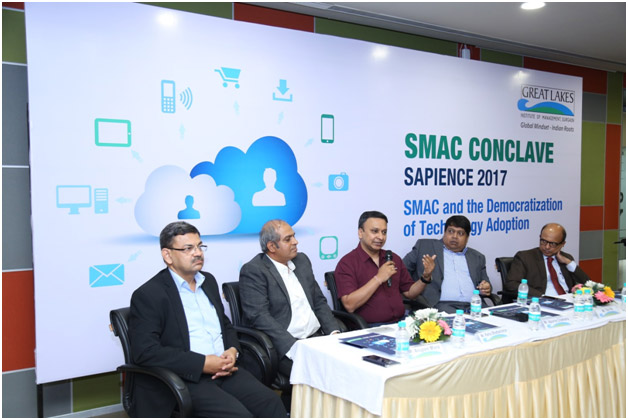 Panel Discussion:Demystification of enterprise return on IT
Panelists:
Mr. Apurva Chamaria, Vice- President & Head of Corporate Marketing, HCL Technologies
Mr. Anupam Misra, Director, Sales, Cloud Platform, Oracle India
Mr. Titir Pal, Vice-President, Head of Products and Solutions, Absolutdata Analytics
The discussion started with the question,Is Cloud changing the way IT is sold? Has it made it easier for companies to understand why they should invest in IT Solutions? The panel opined that, the only return that matters is the business returns. People want to sell value but measuring that value is the key task. The panel shared that, it is inevitable that all companies will have to move from on premises to cloud just to stay competitive;the newer organizations are going straight to cloud. Cloud is the foundation of Digital Transformation. Startups in India have a heavy reliance on Cloud based services rather than on premise solutions that older organizations invested in earlier. The ecosystem that has been generated by cloud has made work much easier. The panel also added that, Analytics, will give actionable insights, which will help organization make solid business decisions. Further the panel raised the question, are SMEs adopting cloud solutions enthusiastically due to its low entry cost or are they technology laggards still resistant to adoption? The Panel concluded on the note that there are two types of SMEs, there are new ones who are adopting to cloud that helps them reduce the hardware cost and then there are old school SMEs, that are still shying away from technology. The new breed SMEs are leapfrogging and taking the advantage of cloud and analytics and leaving the old school SMEs behind in the game.