ABOUT

MEDIA

ANNUAL EVENTS
Great Lakes Institute of Management hosted its 8th Annual Inter-College Management Fest on 12th December, 2018 at its Gurgaon campus. The fest was centered around the theme "Chrysalis", which stands for Metamorphosis, or complete transformation. The event had participants coming from over 60 of some of the most prestigious business schools across the country, including MDI Gurgaon, FMS New Delhi, IIM Kashipur, Welingkar School, IMT Ghaziabad, IMI New Delhi and many more. Out of 1660 teams that participated in the preliminary rounds, 150 made it to the final rounds to showcase their entrepreneurial goals, analytical skills, business acumen, and sheer creativity.
The event commenced with the lighting of the ceremonial lamp by Mr. Ajay Davessar, Founder and Chief Revenue Officer of Atvitti Technologies, India's leading Artificial Intelligence Consultancy, Research and Training organization& Former Vice President and Global Head of Corporate Communications & Corporate Affairs at HCL Technologies. He was accompanied by Dr. DebasishSanyal, Institute Director, Prof. S.K. Palhan, Dr. Umashankar Venkatesh, PGPM Director, Dr. Vikas Prakash Singh, PGDM Director, and other Senior Faculty and Management of Great Lakes Institute of Management, Gurgaon.
Dr. Sanyal set the tone for the event with his opening address to the esteemed guests, faculty, students, and all participants by emphasizing on the idea of Chrysalis and how a business school student's journey is nothing short of a metamorphosis.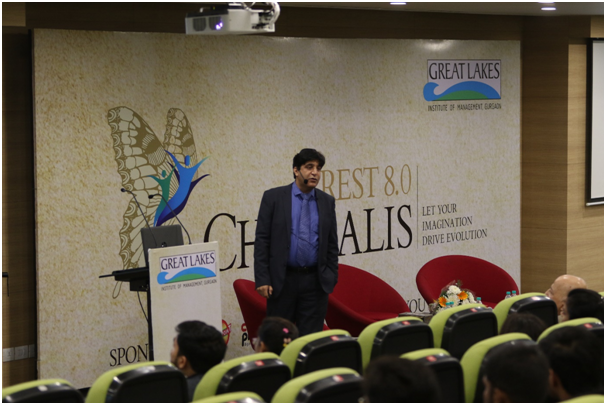 Mr. Ajay Davessar then took the podium to deliver his keynote address around the importance of continuous change in order to survive in the present world.
Crest 8.0 had a variety of events and competitions lined up for the participants. The esteemed panel of jury for each event comprised of industry leaders from all around the country. The competitions, meticulously curated by the students of the institute, tested the participants on a number of aspects including analytical thinking, critical reasoning, pitching and negotiating, teamwork and interpersonal skills, creativity, and many more. These competitions spanned across every possible discipline of management education including entrepreneurship, marketing, finance, operations, human resources, and even analytics.
Meraki
The fest kick-started with the flagship event – Meraki – the B-Plan competition where future entrepreneurs of tomorrow competed on the merits of their business acumen to guide the future of start-ups. To remain in sync with the central theme, Chrysalis, budding entrepreneurs shared their ideas where they integrated technology with indigenous pain-points of the country. Some of these included waste-management, travel, women's hygiene, and content publishing, among others. The event had Mr. Siddhartha Ahluwalia, the Co-Founder of Sheroes, as the jury, along with Mr. Surajit Banerjee, CEO and Founder of Ostino.
Mar-Morphosis
Next in line was Mar-Morphosis, the marketing event conducted by MarQuest, the Marketing Club of GLIM Gurgaon. Bright new ideas from all around poured in as participants pitched in their innovations which would reduce the carbon footprint of the country and contribute to a sustainable and healthy future. The esteemed panel for this event comprised of Mr. Vaibhav Chauhan, Senior Project Manager at HCL Foundation, Mr. Prasenjit Sengupta, Senior Consultant at Mart, Ms. Deepika Sharma, Account Director at Kantar Worldpanel and Tarang Do foide, Senior Manager at Tata Steel Ltd.
Fin-Jig
Managing finances is critical to any manager of an organization and Fin-Jig, the finance event of Crest 8.0, was focused on getting future managers thinking numbers all the way. The case-based discussion on real-life corporate scenarios compelled participants to challenge themselves with the responsibility to analyze the financial health of an organization and prove their mettle in solving its issues. Mr. Biswanath Sen Gupta, CEO - NSPCL India, along with Dr. Preeti Goyal were on the panel for this event and drove insightful conversations with the participants.
Raconteur
The most important skill for a leader is to manage the good people who work for him. This brings us to the event where this skill was put to the test – Raconteur – where five teams put together their best ideas and insights to solve Human Resource conflicts in a corporate environment. The Q & A round with Prof. Satish Kalra and Ms. Amrita Singh, Head HR at IL&FS Rail Ltd, helped the participants explore the deeper insights of the case. It was a perfect culmination of knowledge and its application.
OpSolution
The Operations Management leg of Crest 8.0 – OpSolution – used simple concepts of demand and supply. However, their applications had to delve deeper into the operations of a fish market, a challenge that the participants did not see coming. Mr. Ritwik Barman, India Head- International Express & Freight Forwarding for DTDC Express Ltd., Mr. Adarsh Pal Singh, Consultant and Principal Advisor for Rolta India Ltd, along with Prof. S.K. Palhan were the jury as well as mentors for the enthusiastic participants.
Datalytics
Datalytics, the analytics event conducted by the Analytics department, evaluated the participating teams on the basis of their data crunching and predictive modeling skills to work on an interesting problem. The jury for the events were Dr. Bappaditya Mukhopadhyay, Mr. Indranath Mukherjee, Head of Strategic Analytics Team at XL Catlin and Ms. Jahnavi Mahanat, Head of Data and Operations at Wolters Kluwer.
Carpe Diem
These highly competitive events were followed by a round of Carpe Diem by the Toastmasters club at GLIM Gurgaon. This comprised of heart-touching poetry and light-hearted stand-up comedy by the participants. Prof. Vikas Prakash Singh, who has a penchant for composing poetry himself, presided over this event and declared the winners.
Crestica
To conclude the proceedings of the day, a game of treasure hunt, called Crestica, was organized. Participants raced across the beautiful campus, to complete tasks off a checklist provided to them, which primarily comprised of clicking photographs in vivid settings and situations.
Events
Winners
Meraki
The B-Plan
DIT Dehradun
Great Lakes Institute of Management
Mar-Morphosis
Marketing for Sustainability
Great Lakes Institute of Management
Fin-Jig
Finance Cases
Welingkar
Great Lakes Institute of Management
Raconteur
The People Perspective

BULMIM, New Delhi
Great Lakes Institute of Management

OpSolution
Operational Order in Chaos
FMS, New Delhi
MDI, Gurgaon
Bears to Bulls
Wall Street War
Welingkar
Great Lakes Institute of Management
Datalytics
All About Analytics
Great Lakes Institute of Management
Carpe Diem
The ToastMasters Event
Great Lakes Institute of Management
Crestica
Treasure Hunt
Great Lakes Institute of Management