The campus placement process for the PGDM Class of 2021, witnessed an excellent season with 100% placements by April 2021 despite a 35% increase in the class size over the previous year. The season saw participation from prominent recruiters such as McKinsey & Company, JP Morgan Chase, Nestlé, AB InBev, Barclays, BNY Mellon, Chola MS, Cognizant, CRISIL, Dell, Deloitte, FedEx, Ford, HDFC Bank, HSBC, ICICI Bank, Infosys, ITC, Société Générale, Vedanta and Vivriti Capital to name a few. The average CTC offered to the Class of 2021 increased to INR 11 Lakhs p.a. while the highest domestic CTC was INR 21.5 Lakhs p.a. offered by a multinational consulting firm.
Students were offered varied roles across BFSI, Consulting, FMCG, Financial Services, IT/ITES, Healthcare, Manufacturing and Pharma including as Associate, Associate Consultant, Principal Analyst, Knowledge Analyst, Finance Analyst, Business Analyst, Area Sales Manager, Portfolio Management, Solution Advisor, Product Owner, Inside Sales and Management Trainee.
Dr. Suresh Ramanathan, Dean & Principal, Great Lakes Institute of Management, said, "It is heartening to see an increase in the number of PPOs even in these challenging times. This shows the performance of Great Lakers during their stints in various organizations and the positive impact they could have. It also reflects on the fact that the Great Lakes PGDM is now one of the most sought after and competitive programs in the country with the applications doubling in the last three years."
BFSI (42%) was the largest recruiting sector followed by IT/ITES (39%), FMCG (5%), Consulting (3%), Pharma (3%) and Auto (3%). Sales & Marketing was the dominant function of recruitment with 36% followed by Finance (32%), Analytics (27%) and Operations (5%).
Mr. M. Balaji, Group Director - Corporate & Career Services of Great Lakes Institute of Management, said, "It is great to see the response the PGDM program is generating among the corporates. The class of 2021 not only saw an increase in average salary offered despite an increase in the class size but also saw participation from some of the top and new marquee recruiters."
Average Salary Bracket
Salary Range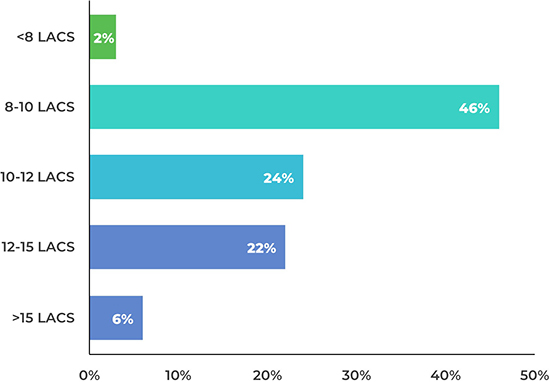 Industry Classification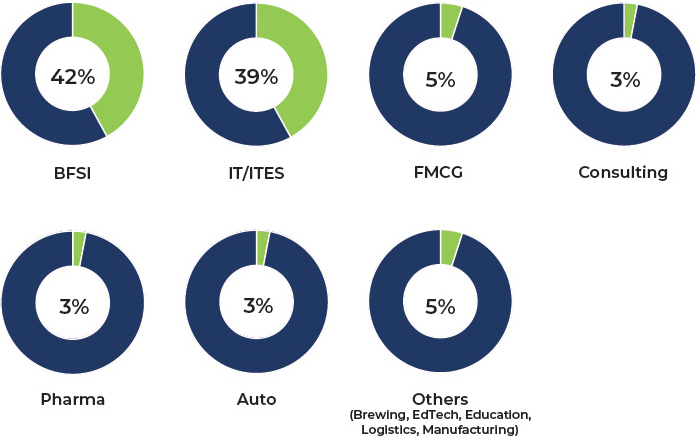 Function Classification

PGDM 2019-21 Participating Companies*
| | | | |
| --- | --- | --- | --- |
| Ab InBev | CRISIL | HSBC | Photon |
| Archimedis Healthcare | Dell | ICICI Bank | PKC |
| Barclays | Deloitte | IDFC First Bank | Samunnati |
| Birlasoft | FedEx | Indegene | SCS India |
| BNY Mellon | Ford | Infosys | Société Générale |
| Bridgestone | GainInsights | ITC Corporate | Tally Solution |
| Builder AI | Great Lakes Institute of Management | JP Morgan & Chase | Vedanta |
| BYJU's | HCL Technologies | LTI | Vivriti Capital |
| Chola MS | HDFC Bank | McKinsey & Company | VMware |
| Cognizant | HDFC Standard Life | Nestlé | Wallet HR |
Notes:
List of participating companies is partial
All figures are of CTC which includes fixed salary, variable incentives and benefits