PGDM Placement Snapshot 2020
The campus placement process for the PGDM Class of 2020, witnessed another excellent season with 100% placements and participation from prominent recruiters from diverse sectors such as McKinsey, Crisil, Dell, Deloitte, KVB, JP Morgan, Ford, RBS, Cognizant, Infosys, ICICI, HSBC Technologies, ITC, KALS Group, Nippon, Federal Bank and Chola MS to name a few. The Avg. CTC increased to 10.4 lakhs p.a. while the highest domestic CTC increased to 21.5 Lakhs p.a offered by a multinational consulting firm.
Dr. Suresh Ramanathan, Dean & Principal, Great Lakes Institute of Management, said, "PGDM placements this year saw participation from some of the top organizations and it is heartening to see the growth of the program both in terms of the student quality and the placement results. We look forward to an accelerated growth in the years to come."
Students were offered varied roles across BFSI, Consulting, FMCG, Financial Services, IT/ITES, Healthcare, Manufacturing and Pharma including as Business Auditor, Knowledge Analyst, Associate Solution Advisory, Credit Risk, Finance Analyst, Corporate Sales, Risk Advisory, Associate Consultant, Relationship Manager and Management Trainee. BFSI (38.5%) was the largest recruiting sector followed by IT/ITES (24.8%), Consulting (8.3%), FMCG (6.4%), Financial Services (5.5%) and Manufacturing (5.5%). Sales & Marketing was the dominant function of recruitment with 35.8% followed by Finance (30.3%), Operations (17.4%) and Analytics (16.5%).
Mr. M. Balaji, Group Director - Corporate & Career Services of Great Lakes Institute of Management, said, "We are delighted with the response PGDM is generating among the corporates. Our corporate partners coming back to hire year on year is a testament to their confidence in us as talent partners and to our students delivering results in the business world."
Average Salary Bracket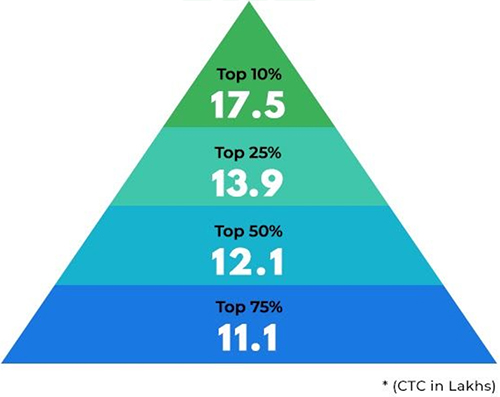 Salary Range
Industry Classification
Function Classification
PGDM 2018-20 Participating Companies*
SECTOR
COMPANIES

Banking & Financial Services

Societe Generale, RBS, JP Morgan, HDFC Bank, Federal Bank, HDFC Life Insurance, CAMS, ICICI Bank, ICICI Prudential, ICRA, Crisil, Samunnati, IndusInd Bank, Chola MS, Karur Vysya Bank, Bank Genie

Consulting

McKinsey, Deloitte, IPAC

FMCG

KALS Group, ITC, Nippon

IT/ITES

LTI, HCL, HSBC Technologies, Hexaware, GAVS, Infosys, Cognizant, Ameex Technology, Tech Mahindra

Others
(Healthcare,Manufacturing, Retail, Real Estate, Pharma)

Dell, Sicagen, Ford, Indigene, Chola MS, Camomile Healthcare, Sobha Realty, JLL, Bhawar Group
Notes:
List of participating companies is partial
All figures are in terms of CTC which includes fixed salary, variable incentives and benefits