PGDM Placement Snapshot 2014
MAMALLAS, PGDM CLASS OF 2014
Great Lakes saw the successful placement of the very first batch of the two year PGDM in 2014 with a large number of companies making offers across industries and functions. While IT/ITES area saw the maximum number of offers, the highlight of the PGDM placements has been the significant number of offers made by companies in Banking & Financial Services.
The 10th year of Great Lakes saw new milestones with placements happening for two full time programs PGPM and PGDM for the first time and Great Lakes managed to place the record number of students despite the tough economic conditions. Along with the Institute becoming the youngest business school in India to receive the AMBA international accreditation recognizing overall quality, the successful placement season witnessing the largest ever set of companies and students getting placed, makes the 10th year celebration even more special. With the successful final placement of the first batch and the exceptional summer placements of the 2nd batch, the PGDM program is all set to up the ante going forward.
Kotak Mahindra Bank, Axis Bank and HDFC Bank all made multiple offers while Kotak Mahindra Bank was also the largest recruiter overall making 8 offers. Other prominent recruiters include Abbott Healthcare, Bharti Airtel, Cognizant, Decalthon, Dell Finance, Dexler, Gofrugal, Greenply, ICRA, IndusInd Bank, Matrimony.com, Optimal Strategix, Polaris, Ramco Systems, RBS, Robert Bosch, TCS, TVS Motors, etc. The Average CTC offered was INR 8.07 lakhs and the Highest CTC was INR 10.00 lakhs by Dell Finance. The placements also saw an international offer made for the very first batch by Hashi Energy, Kenya.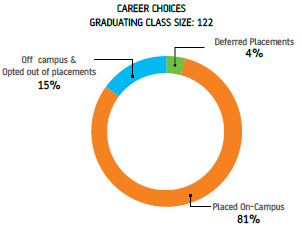 Major Recruiters and Roles Offered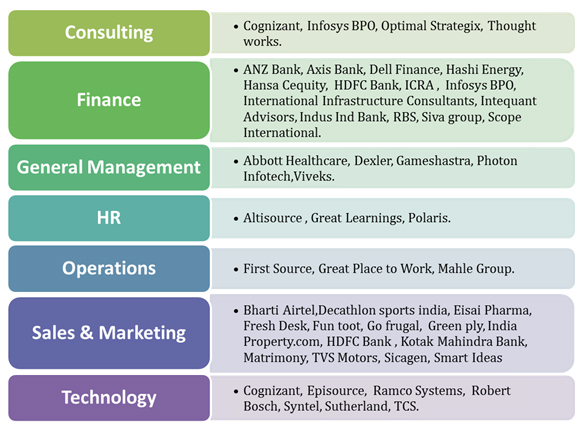 Recruiters List*
| | | |
| --- | --- | --- |
| Abbott Healthcare | Great Learnings | Photon Infotech |
| Altisource | Greatplace to work | Polaris |
| ANZ Bank | Greenply | Ramco Systems |
| Axis Bank | Hansa Cequity | RBS |
| Bharati Airtel Limited | Hashi Energy, Kenya | Robert Bosch |
| Cognizant | HDFC Bank | Scope International |
| Decathlon Sports India | ICRA | Sicagen |
| Dell Finance | India property.com | Siva group |
| Dexler | IndusInd Bank | Smart Ideas |
| Eisai Pharma | Infosys BPO | Sutherland Global Services |
| Episource | Intequant Advisors | Syntel |
| First Source | International Infrastructure Consultants | TCS |
| Fresh Desk | Kotak Mahindra Bank | Thoughtworks |
| Funtoot | Mahle Group | TVS Motors |
| Gameshastra | Matrimony.com | Viveks |
| Gofrugal | Optimal Strategix Group | |
*partial list