PGPM Class of 2018-2019
- App. Deadline for PGPM 2019-20 (Cycle 2): 31st Jan, 2019. Apply Now
- Admissions Webinar | Date: 15th Jan, 2019 | Time: 7:30 pm – 9 pm Register Now
- Candidates with 0-2 years of exp. can apply to the PGDM program. Learn More
The campus placement process for the PGPM Class of 2019, witnessed an excellent season with over 97% of the students already placed as on 9 Jan 2019. The placement season saw participation from major recruiters like Accenture, Aditya Birla Capital, ADP, Amazon, Barclays, Cognizant, Capgemini, Deloitte, EY, Gartner, HCL, Honeywell, HSBC, Infosys, ITC Infotech, L&T Infotech, Mentis, MuSigma, TCS, Virtusa, ZS Associates to name a few. The average CTC of the batch stood at 13.1 Lakhs p.a. and the highest domestic CTC offered was 29 Lakhs p.a. offered by a multinational consulting firm. The process is set to wrap up on a high with the remaining students awaiting to interview with top companies over the next few weeks.
Students were offered various coveted roles in Analytics, BFSI, IT/ITES, Consulting, E-commerce, Technology Consulting, FMCG and Product. IT/ITES (37%) was the largest recruiting sector followed by Tech Consulting (23%), Business Consulting (22%) and BFSI (5%). In terms of the functional areas, Technology Consulting (33%) attracted the largest set of offers followed by Analytics (15%) and Sales & Marketing (14%).
Key Highlights
Participation of diverse set of companies across Analytics, BFSI, IT/ITES, Consulting, E-commerce, FMCG and others
Significant increase in offers for Strategy Consulting, Product Management, Digital and Analytics roles
Offers by 15 new recruiters including AbInbev, Arvind Lifestyles, Bristlecone, Capgemini, Gartner, Honeywell, India Cements, Kals Group, United Health Group, Zolo Stays to name a few
TCS, Deloitte US & India, Accenture and HCL made the maximum offers on campus
Maximum profiles offered in Technology Consulting (33%) followed by Analytics (15%), Sales & Marketing (14%), Business & Strategy Consulting (11%), Finance (9%), Digital (8%), Operations (5%) and Project/Product Management (5%)
Highest Domestic CTC offered was INR 29 Lakhs per annum by a leading multinational company
Average CTC offered to the Class of 2019 was INR 13.1 Lakhs
Industry Classification
Function Classification
AVERAGE SALARY BRACKET
SALARY RANGE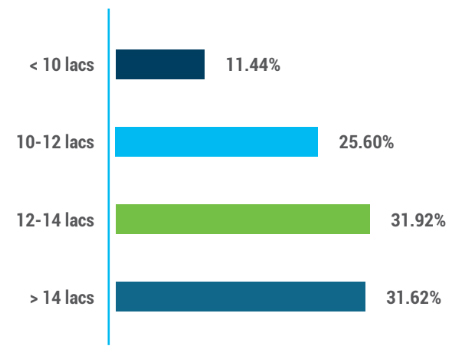 PGPM 2018-19 PARTICIPATING COMPANIES*
SECTOR

COMPANIES

Analytics

Musigma, Tiger Analytics, Fractal Analytics, Gain Insights, i2Decisions

BFSI

Barclays, HSBC, Aditya Birla Capital, CAMS Online, WeInvest

Consulting

Accenture, Deloitte US, Deloitte India, EY, ZS Associates, Bristlecone, Brillio, Cartesian Consulting

E-Commerce

Amazon, Zolo Stays, Moglix

IT/ITES

Accenture, Cognizant, TCS, Infosys, Capgemini, Honeywell, L & T Infotech, ITC Infotech, Brillio, HCL Technologies, Hexaware, Quest Global, Virtusa, Mindtree

Product

ADP, Mentis, Bizongo

Others
(FMCG, Manufacturing, Retail, Healthcare, Research)

AbInbev, KALS Group, United Health Group, India Cements, Gartner, Arvind Lifestyles
Note:
1. List of participating companies is partial.
2. All figures are of CTC which includes fixed salary, variable incentives and benefits.
3. Does not include students on sabbatical returning back to their firms.
Placement Report 2018
Placement Report 2017
Placement Report 2016
Placement Report 2015
Placement Report 2014
Placement Report 2013