PGPM Placement Snapshot 2016
Final Placements
The PGPM Class of 2016, witnessed an excellent placement season this year, with all students in the process getting lucrative offers across diverse sectors and functional areas. The placement process for the PGPM Class of 2016 saw participation from leading recruiters like Accenture, Aditya Birla Financial Services, Amazon, Cognizant Business Consulting, Cartesian Consulting, Deloitte, Dell, DCM Shriram, E&Y, Genpact, iNautix, HCL, HSBC Technologies, Infosys, L&T Infotech, TCS, Tolexo, Wipro, ZS Associates, etc.
Average CTC offered stood at INR 12.11 lakhs p.a. and an e-commerce multinational made an offer with Highest CTC of INR 31 lakhs p.a. 350 students out of the batch of 399 took up offers on campus, 1 student opted out of placement process and 48 who were on sabbaticals chose to go back to their parent organizations.
Technology Consulting was the top function of choice with 34% of the batch taking up profiles in the area followed by Sales & Marketing (21%), Business Consulting (17%) and Operations (17%). Techno-Functional/ Consulting roles were offered by firms like Accenture, Amazon, Cognizant, ITC Infotech, L&T Infotech, TCS, Vitrusa, and Wipro. Sales & Marketing roles were offered by IT/ITES, E-commerce, FMCG, Telecom and BFSI firms like Aditya Birla Sunlife, KEF, KPIT, Lava International, Photon Infotech, Tolexo, Tasty Bites to name a few.
Classification by Industry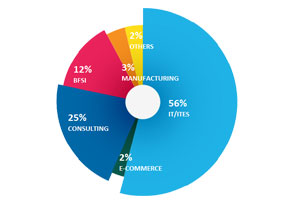 Classification by Function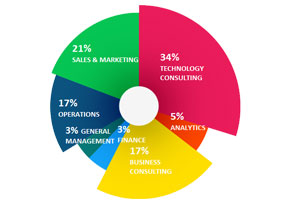 While IT/ITES and Consulting remained the top recruiting areas with almost all large companies participating in the process, emerging areas like Analytics and E-Commerce saw many new roles being offered by recruiters like Amazon, Caratlane, Dell Analytics, Hansacequity, Tiger Analytics, Tolexo, RocketKommerce, etc.
Commenting on the excellent PGPM 2016 placements, Mr. R. Shreenath, Director – Corporate & Career Services of Great Lakes Institute of Management, said, "We are very happy with the placement outcome this season with ALL the students getting placed well before completion of their program with a larger and diverse base of recruiters than ever before. There were also many new corporates who showed keen interest in recruiting from our talent pool. This is testament to the confidence of our corporate partners in the quality of our graduates and we look forward to serving their talent needs in the years to come".
List of Recruiters*
| | | |
| --- | --- | --- |
| Aditya Birla Financial Services | Hansacequity | Payoda Technologies |
| Accenture | Happiest Minds | Photon Infotech |
| Alliance Global | HCL Techologies | Quadrant4 |
| Amazon | HSBC Technologies | Ramco Systems |
| Caratlane | IFMR Capital | Rapid Value |
| Cartesian Consulting | iNautix | RocketKommerce |
| Cognizant | Infosys | SADIG |
| Crayon Data | Infotrellis | Scope International |
| CSS Corp | ITC Infotech | Sutherland |
| DCM Shriram | Janalakshmi Financial Services | Tasty Bites |
| Dell | Kaar Technologies | TCS |
| Deloitte | KEF | Tech Process |
| Dunia Finance | KPIT Technologies | Tiger Analytics |
| E & Y | L & T Infotech | Tolexo |
| EID Parry | Lava International | VA Tech Wabag |
| Episource | Levers for change | Vestas |
| Expanion.com | Mafoi Strategy | Virtusa |
| FSS | Manipal Education & Medical Group | Wipro |
| Galaxy Surfactants | Maveric Systems | Xanadu Realty |
| Genpact | Nesh Technologies | ZS Associates |
*List is partial. International offers were made by Dunia finance and SADIG.