PGPM Placement Snapshot 2013
With an increasing demand for talented business ready managers Great Lakes is being looked at by the corporate world as a Centre of Excellence in Management. International IT heavy weight, Microsoft Corporation, a first time participant in recruitment drive at Great Lakes this year, offered a package of INR 26.72 Lacs per annum, which is the highest domestic offer; while Kenafric Industries Ltd., a Kenya based FMCG major, made the highest International offer of US $ 65,000 per annum, a testimony to the quality and potential of Great Lakers. The average annual salary offered this year is INR 11.03 Lakhs per annum, and the median salary is INR 10.25 Lakhs.
Great Lakes Institute of Management, Chennai witnessed another phenomenal placement season for the flagship Post Graduate Program in Management (PGPM 2013). The batch of 2013 (Mighty Mamallas) comprising of people from diverse backgrounds and work experience were offered challenging roles, opportunities and profiles with an equally impressive set of quality recruiters from all over the country and the world.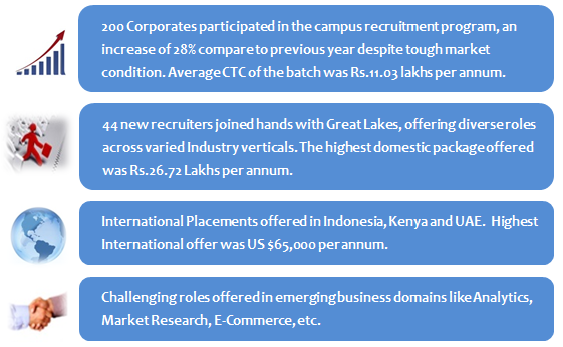 Great Lakes observed an increase of 28 % in the number of recruiters during this season, spread across various sectors selected from one of the best talent pools in the country with an experience ranging from 2-9 years. In the graduating batch of 358 students, 314 students took up job offers on campus, 15 returned to companies with which they were working prior to the program and 21 took up offers off-campus. 8 students set out on entrepreneurial journey either starting their own companies or joining their family businesses.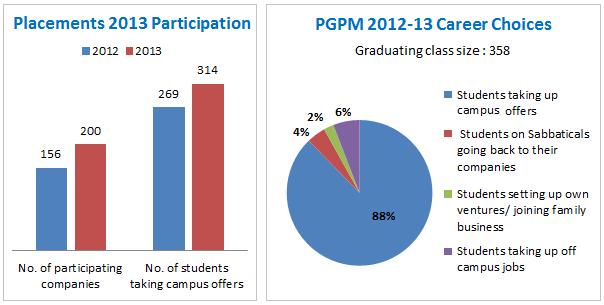 Corporates offered diverse roles during the placement season of 2013, including roles like ERP Associate Consultant, L&D Consultant, Senior Business Research Analyst, Business Planning Manager, and Strategic Growth Manager. Candidates were also chosen for senior level position like Senior Area Sales Manager , Associate Vice President, Lead consultantetc. The highest number of offers from Corporates was in Consulting, followed by Marketing & Sales & Analytics.
Recruitment Details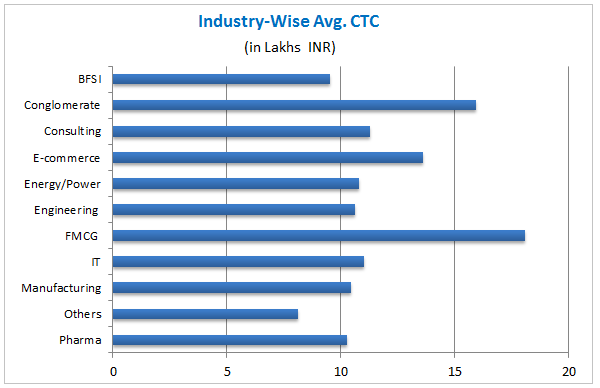 Others include Education, Media, Logistics, Facility management, Real Estate
Industry-wise Major Recruiters
| | |
| --- | --- |
| Industry | Major Companies |
| BFSI | Bank of America, Kotak Mahindra Bank, Dunia Finance, iNautix, Citi Bank, Axis Bank, HDFC Bank, Prizm Payments |
| Conglomerate | AM International, Al Ahmadi, KEF Company |
| Consulting | CBC, Deloitte, KPMG, Musigma, Universal Consulting, ZS Associates |
| E-commerce | Carwale |
| Energy/Power | SunEdison, Indus Green Gold |
| Engineering / Technology | Larsen & Toubro Limited (Hydrocarbon & Construction Pipelines) |
| FMCG/Retail | Atlantic Lubricants(Motul Group), Tasty Bites, Kenafric Industries, Apparel Group |
| IT | Microsoft, TCS, CTS, Infosys, ITC Infotech, HCL, L&T Infotech, Wipro, HCL, Accenture, Mindtree |
| Manufacturing/Automotive | Bosch & Siemens, Ford, Visteon Automobile |
| Others | Damco, ISS SDB Security, The Hindu, Marg |
| Pharma / Healthcare | Cipla, Xcode Life Science, United Health Group, Apollo Hospitals |
| Real Estate | Century Real Estate, MARG Group |
Function-wise details
Function-wise Major Recruiters
| | |
| --- | --- |
| Function Wise | Major companies |
| Analytics | Blue Ocean Market Intelligence, iNautix Technologies(A BNY Mellon Company), Musigma |
| Consulting | Accenture Services, ADP, KEF Company, Cognizant Business Consulting, Deloitte, Dolcera,Infosys, ITC Infotech, KPMG, L&T Infotech, Mahindra Satyam, Maveric Systems, Mindtree, Optimal Strategix, Ramco Systems,TCS, Universal Consulting,Virtusa, Wipro, ZS Associates |
| Finance | Axis Bank, Bank of America, Al Ahmadi, Cognizant Research, Dell International, Ford, ICRA, Kotak Mahindra Bank, Dunia Finance, CitiBank |
| General Management | Apple Coal Group, CSS Corp, Fourth Dimension Software Services, AM International Holdings Pvt Ltd (SPIC Group), Kenafric Industries Ltd, |
| Human Resource | Larsen & Toubro (Hydrocarbon & Construction Pipelines), Wells Fargo, Financial Software Services |
| Marketing/Sales | Atlantic Lubricants(Motul Group), Apollo Hospitals, Axis Bank, Carwale Automotive, Cipla ltd, Cognizant Technology, Damco India, Dolcera, Dunia Finance, GAEA Technologies, iMerit Technology, Kotak Mahindra Bank, ManipalGroup, Marg Group, Nippon Paints, Tasty Bites, SunEdison Energy |
| Operations / Supply Chain | KEF company Calicut Property Services, ISS SDB Security Services, Larsen & Toubro Limited (Hydrocarbon & Construction Pipelines), Visteon Automobile System |
| Systems / IT | Apollo Hospitals, Cheers Interactive, HCL, Microsoft, Photon Infotech, Syntel |