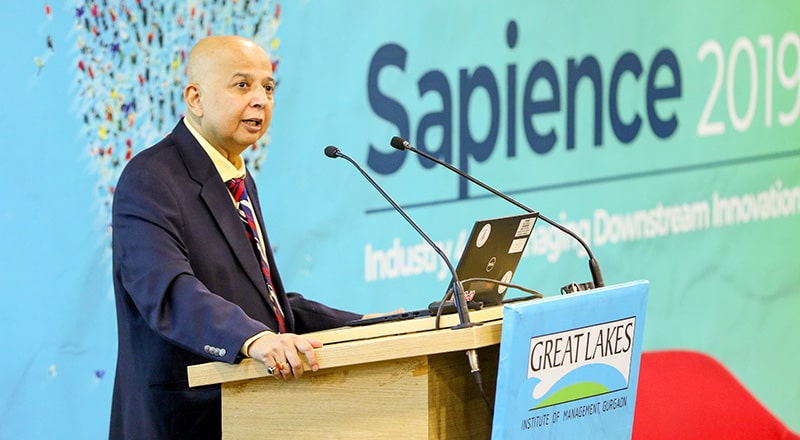 Managing Downstream Innovations in Industry 4.0: Sapience 2019

Great Lakes Institute of Management conducted its Annual Management Conclave Sapience 2019 on 11th October, 2019, at its Gurgaon campus. The theme for the conclave was Industry 4.0: Managing Downstream Innovations. Industry 4.0 connotes a new Industrial revolution centred around cyber physical systems. The real time connection between physical and digital systems, along with new enabling technology, is the new way forward. Technologies such as Internet of Things (IOT), Blockchain, Advanced Robotics, Artificial Intelligence and numerous others will be monumental in achieving excellence and building a greater business impact.
Present at the conclave were prominent industry leaders across the four functions – Analytics, Operations, Marketing and Finance, along with the faculty and students of the one-year PGPM and two-year PGDM batches of Great Lakes Institute of Management. The event started at 9:30 AM with the lighting of the lamp and a welcome address by Dr. Debashis Sanyal, Director of Great Lakes Gurgaon. Dr. Sanyal set the tone for the conclave by emphasising how the Fourth Industrial Revolution has changed the way we conduct business and how the institute is keeping up with changing times, preparing its students to ride the tidal wave of Industry 4.0.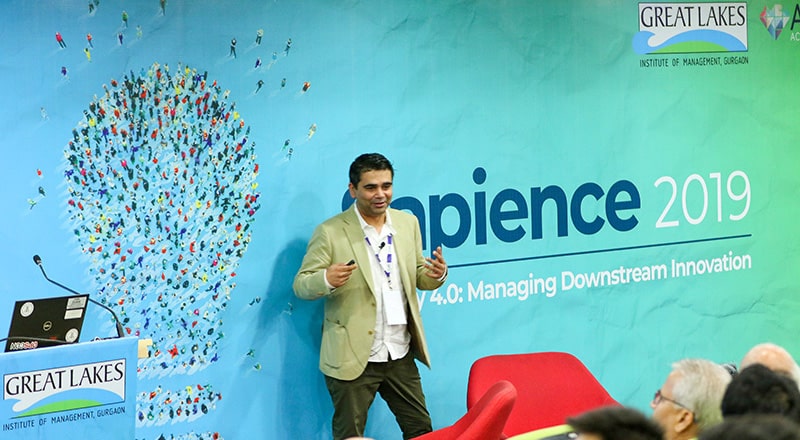 Sapience 2019 had two notable Keynote Speakers – Mr. Dushyanth Sekhar, Senior Director of Centre for Automation, Robotics and Extraction (CARE), S&P Global, and Mr. Subhajit Sanyal, Senior Manager for Machine Learning at Amazon. The keynote addresses highlighted and introduced the theme of the conclave and emphasised on how AI and Machine Learning especially are driving critical business functions.
Mr. Dushyanth started by quoting that "Innovations without executions are hallucinations". Data is the core for all decision making and everything starts with Data. He explained that though Data has been there since ages, over the years three major innovations have emerged - Storage: which has become cheaper, Processing Power: Which is cut above older versions & Data: which is not available easily as it largely remains in unstructured form. The objective of the keynotes was to make the students more cognizant about how data is going to be paramount for businesses, the critical role of AI in consumer-centric marketing and importance of data science in an organization.
Enlightening the inquisitive students gathered in the room were Data Scientists and Industry Heads from the Analytics domain, beginning the conversation with a discussion on basic concepts and new innovations.
Dr. Bappaditya Mukhopadhyay, one of the top Analytics academicians of the country and a Great Lakes faculty member was the moderator for this panel discussion. Accompanying him for the discussion were Dr. Atul Tripathi – Chief Data Scientist for Cyber Security at Tech Mahindra, Mr. Jayatu Sen Chaudhury - Lead for Data Science for Global Commercial and Merchant Business and Head of Enterprise Digital and Analytics at American Express India, Ms. Ajapa Gupta – Vice President of Consumer Banking Analytics at Genpact, Mr. Akash Singh – Director of Business Solution Technology Vertical at Cognizant, and Ms. Aarti Bharadwaj – Head of Analytics at Essence Global.
The panel addressed issues such as public policies reaching the right people, the power of analytics in credit risk analysis, the buzz around Machine Learning and Artificial intelligence, the employment scenario in India, Unstructured Data, security issues in the data driven world, product customisation and finally, the question of whether there should be a balance between business and analytics in a B-school curriculum.
Dr. Tripathi pointed out that India has 1.2 % people paying taxes, something he believes is not justified. He went forth and deduced that most people check their phones first thing in the morning, which gives organizations access to a lot of data pertaining to these individuals. Banks and even the Government are leveraging this data and moving towards building a sustainable environment for the growth of the nation. Adding to this, Mr. Jayatu drew a parallel where traditional technologies could not deduce whether a payment had the potential to meet the commitments, whilst today banks have access to client behaviour. Ms. Ajapa stated that investing on Data Lakes has two major components, one being Risk and the other being Marketing. There must be a 360-degree view of the entire business ecosystem for an organization to leverage data. The focus should be on bringing external data, by assessing customer behaviour through search history analysis from the back end. Mr. Akash addressed the rising concerns of losing employment soon, emphasising that every algorithm needs human intervention to validate the final perception. He also went ahead to speak about Hyper Personalisation, required to deliver targeted products, analyse search behaviour and subsequent needs of the consumers, has become the need of the hour in a Business to consumer scenario. Ms. Aarti stated that every organization must meet unstructured data to a large extent, and crunching this unstructured data is where organizations are heading towards. When asked about customers being subjected to outrageous personalisation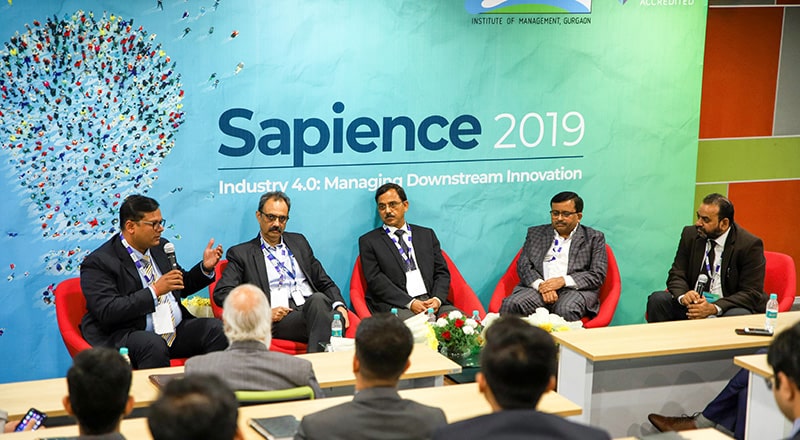 Considering the ever-changing consumer behaviour, business prospects are also changing. Whether it is Telecomm, Mobility or Manufacturing, industries are moving toward more sophisticated technologies to deliver products and services with improved quality at a cheaper price. In this era of extreme supply, demand and design variability there is a growing need of innovation. Industry 4.0 caters to that need to innovate.
The second panel discussion, on Operations, was presided over by Dr. VP Singh – Professor of Economics and Statistics at Great Lakes Institute of Management. Along with him were Dr. Harish Pant – Chief Business Transformation Officer at NTF (India) Pvt. Ltd., Mr. Amit Mukherjee – Director of Service Business Operations at Ciena, Mr. Hemant Bishnoi – EVP and Head of Customer Experience at Ecom Express, and Mr. Anand Bhadauria – Senior GM for Supply Chain at Osram, a Siemens Lighting Division.
The panel discussion aptly described Industry 4.0 as a wave which every organization should ride in order to stay relevant in the market, along with the fact that companies must be aware of how they will use the data gathered by their smart machines and draw meaningful inferences from it. Artificial Intelligence, facial and voice recognition, time-of-flight technologies, IoT, actuators, cameras and sensors can enable almost every imaginable service to be delivered into homes, offices and even cars.
A striking message that Dr. Pant conveyed was, "A successful implementation of innovative solutions in the Industry 4.0 era will result in a change of huge proportions. The existing technologies will become obsolete and those who don't catch-up will be out of the competition." Mr. Amit Mukherjee backed this up by sharing the practical example of WiMAX, which entered the data communication market first but was labelled obsolete because it couldn't catch-up with the disruptive technologies such as Wi-Fi and LTE. Marrying analytics into technology and then helping the system to adapt is the right way to progress as a company. Mr. Hemant went ahead to reiterate the fact that primary objective of prominent e-commerce companies is to provide convenience to the customer. He recalled a time when a huge chunk of customers in India were unreachable, but due to the venture of smart machines and algorithms in identifying, sorting and distributing processes, most of the nation is now accessible for online delivery. Finally, Mr. Anand took the audience by surprise when he explained how even lighting sources can be improvised to be used as data points. To quote Mr. Anand, "Digital lighting is going to play a major role in shaping our future lifestyle.". In this forward-thinking era, having connected machines that communicate with each other without the need for human involvement opens unimaginable opportunities.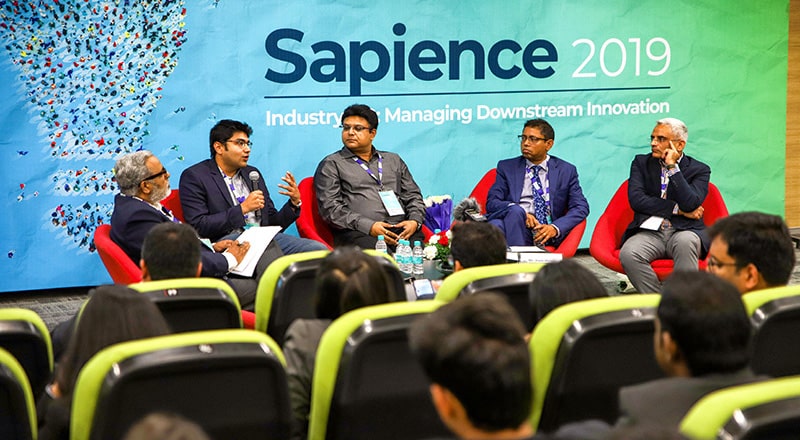 Industry 4.0 is the outcome of marketing pressure. There is immense customer pressure which has forced manufacturers and the operations sector to change and that is what, now has been called as Industry 4.0. More than promotion and media campaigns, marketing is trying to give a good experience to the consumer. And this shift has been possible because conventionally consumers were targeted after segmentation but today, marketers are targeting the cohorts and communities instead, leading to hyper-personalization.
Steering the conversations at the Marketing panel discussion was Dr. Umashankar Venkatesh, Professor of Marketing at Great Lakes Institute of Management. Participating in the discussion were Mr. Shashank Sharma – Principal at DAN Consult, Mr. Subhransu Rout – Head of Consumer Insights and Intelligence at Bharti Airtel, Mr. Vivek Mehra – Founder and Director of Accelerity, and Mr. Dippankar Haldar – Founder of Jalongi, as the panellists.
The panel discussion shed light on how there is a shift to multiple positioning from single positioning. In order to become consumer centric, it is important to understand the consumer which can only be achieved by listening. Marketers need to shun the age old practice of averaging and follow the de-averaging approach in order to market products and services more effectively to customers and cohorts of customers.
On answering to the question of what has been the role of marketing in Industry 4.0, Mr. Shashank explained that at the heart of today's top 5 companies (Apple, Google, Amazon, Facebook and Microsoft) is Data and Connectedness. Marketers have to track all consumers' behaviour across the funnel and make sure the right content reaches to the right consumer at the right time. It has become inevitable for FMCG companies to move in the direction of agility and data orientation in order to stay ahead of the curve. Mr. Rout, considered 3 basic tenets to discuss – "Who is your customer?" (Bae/BFF/Spouse, etc. and their smart phones), "What is the insight?" (what would motivate a person to act), and "How to talk to these customers?" (Cohorts change like amoeba). Mr. Vivek Mehra spoke about three aspects of marketing in the modern context - Consumer: Expecting amazing experience while buying products or services, Marketer: Telling brand stories in real time and create an experience for consumers that is immersive, and Marketing Agency: Transition in CRM, marketing automation, customer data performance, CMS, and so on. Mr. Dippankar gave insights how, with the evolution of Industry 4.0, technology helped him understand consumers' pain points and thus cater those problems. His key takeaways were - focus on brand building, market online as well as offline, explore different channels, and don't dwell in the past.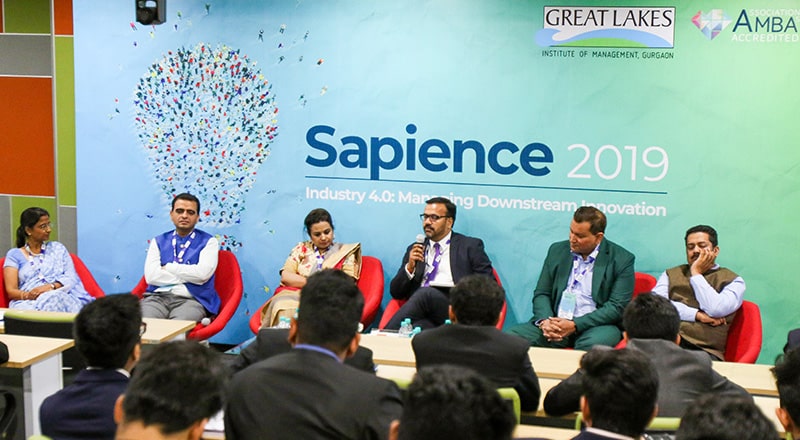 New tools and technologies are being brought in by Industry 4.0, bringing a major overturn of events in the finance industry of the country. Asset allocation and rebalancing form the basics and main focus of his day to day activities but technology intervention in these processes helps get rid of various human biases, be it intentional or unintentional. Even with the current rapid growth of technology, human intervention will always be elementary in the success of any industry.
The Finance panel discussion was hosted by Dr. Preeti Goyal, Professor of Finance at Great Lakes Institute of Management. Joining her for the discussion were Mr. S.S.K Pradhan – Chief General Manager at Reserve Bank of India (NBFC), Mr. Amitabh Singh – Post Master General of Kolkata, Ms. Meenal Bansal – COO of AIG, Mr. Sameer Garg – VP & Group Head for MNC & New Economy coverage at Axis Bank, and Mr. Nipun Madan – CEO of 3i Finserv.
The discussion touched base on various topics such as economy slowdown, causes of NPAs, financial inclusion of all segments of the society in digitization, the role of private banks and how technology is affecting them, artificial intelligence in insurance and the role of technology to omit human biases in the field of wealth management.
According to Mr. Pradhan, "Finance and economy go hand in hand, when one sees a downfall so does the other and vice versa". With his vast experience in the industry and the RBI, he emphasised on the fact that if one does not accept criticism then one can never move on and succeed. Mr. Amitabh spoke about the population that still remains unbanked and how an effective banking system needs to reach everyone in the trinity pyramid, top to bottom. He stated that if banking service is inaccessible to the poor, it is neither radical nor revolutionary. Mr. Sameer Garg spoke about his experience as a banker at a private bank dealing with the current changes due to the proliferation of technology, Fintech and third-party payment wallets. According to him, in today's world, the competitor of a bank is not a bank but a technology company looking to enter the payments and monetary transactions segment. Ms. Meenal Bansal was able to drive more insights into the essential world of insurance and how artificial intelligence is changing the face of the industry. She explained how AI is now being used to compute insurance premiums throughout different industries like the automobile industries where the driving patterns, road sense, stress behaviour can now be monitored using technology. She strongly advised the students to be like water, adaptable, to someday become drivers of continuous change. Mr. Nipun Madan was very vibrant and driven to inculcate positivity about the new changes being brought about by the Industry 4.0 in terms of technology and automation by relating his own journey as a salaried employee to his current success in leading his own wealth management venture.