Great Lakes Institute of Management, Gurgaon, hosted its annual management conclave, SAPIENCE 2018, in August at its campus. The event, conducted as a series of 5 conclaves, was a huge success with panelists ranging from policy-makers to CEOs to startup founders who shared their perspectives with the Great Lakes community including students, faculty and industry guests.
MARKETING TRACK – Building Consumer Connect on Emerging Markets
"In this new era of digital-based competition and customer control, people are increasingly buying because of a brand's relevance to their needs in the moment".
Panelists included Top industry leaders from leading organizations such as Shine.com, Makemytrip.com, Neilson Co. and Dabur Ayurvet Limited discussed how marketers are attempting to integrate principles of design in formulating go-to-market strategies to keep themselves relevant in building new (and hopefully) lasting connections with a spoilt-for-choice-customer in a maddeningly complex market such as India. This would include among others, the increasing use of Analytics, AI, ML, IOH, IOT in marketing decisions ranging from value proposition design, distribution, pricing, and communication.
L-R: Mr Peeyush Bajpai, Director – Big Data, Nielsen Co., Dr Anup Kalra CEO and Director, Dabur Ayurvet Limited, Prof Anirban Chaudhuri, Great Lakes Institute of Management, Mr Ranjeet Oak, CBO, Makemytrip.com and Mr Zairus Master, CEO, Shine.com
HRM TRACK – Future of HRM
HR needs to modify its approach and develop a new mindset from "Making Employees Want Things" to "Doing Things Employees Want".
Panelists included Top HR leaders from organizations such as Hero MotoCorp Times Internet and Vistara - TATA SIA Airlines shed light on the HR strategies being adopted by the organizations in order to meet the challenges for the future by applying the principles of design thinking to the way employees work to impact their satisfaction, productivity, and enjoyment.
L-R: Mr Abhinav Gera, Head Talent Management, Hero MotoCorp, Mr Rattan Chugh, Chief People Officer, Times Internet and Mr Himanshu Seth, Head - HR Transformation, Vistara - TATA SIA Airlines, Prof Satish Kalra, Great Lakes Institute of Management
OPERATIONS TRACK – Supply chain design: Harnessing the power of Analytics and E-commerce
In the dynamic markets, the supply chain analytics is playing an important role in creation as well as shaping the demand for products and services. In order to be competitive, the management of logistics and warehouse has become very important to improve the delivery of goods and services.
The Operations track in Sapience witnessed discussions by the dignitaries from Ecom Express, D.T.D.C Express Ltd, Kohler Kitchen & Bath, India, Ostino Enterprises Pvt Ltd and Hellmann Worldwide Logistics; who are bringing about the changes in the traditional business through analytics and innovations in supply chain management.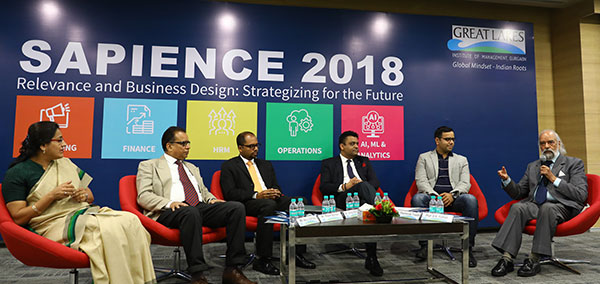 L-R: Ms Venu Vashista, Director – Supply Chain, Kohler Kitchen & Bath India, Mr Ritwik Barman, COO, India Head – International Express & Freight Forwarding, D.T.D.C Express Ltd, Mr Surajit Banerjee, CEO & Founder, Ostino Enterprises Pvt Ltd and Former Director - Management Consulting, KPMG India, Mr Siddhartha Mathur, Global QHSE Management, Hellmann Worldwide Logistics, Mr Dayanand Tripathi, General Manager – Talent, Rewards, and Culture, Ecom Express, Prof SK Palhan, Great Lakes Institute of Management
FINANCE TRACK – Rethinking the Indian Banking Industry Business Design
Given the risk management technologies, restructuring of the portfolio companies, as well as technical support how Indian banks will cope with the challenges, is a matter of keen interest.
Banks need to exploit artificial intelligence and analytics to derive actionable business insights from the mountains of data they have captured over the years. This vast amount of data will also help them to increase transaction efficiencies by reducing friction. In this background, is the current business design of the Indian banking industry relevant or its rethink is inevitable? The question was pondered upon by Financial stalwarts from Reserve Bank of India, Canara Bank, Axis Bank, NSPCL India and HeroFincorp.
L-R: Mr Manoranjan Sharma, G.M. and CLO, Canara Bank, Mr S.S.K Pradhan, Chief General Manager, Reserve Bank of India, Mr Nuti Chakravarty, Head - Regional Branch Banking, Axis Bank, Mr Biswanath Senguta, CEO, NSPCL India, Mr Samir Mehta, Chief Business Officer, Hero Fincorp, Prof Ahindra Chakrabarti, Great Lakes Institute of Management
AIMLA TRACK – Preparing India to Lead in Artificial Intelligence Age
AI will create 2.3 million jobs by 2020, while eliminating 1.8 Million but will remain a positive job motivator by 2020. There is an unprecedented opportunity before India to establish leadership through AI both as a user as well as the creator.
Panelists from tech giants likeSAP Labs (Singapore), XL Catlin, Newgen, Kognetics, FN MathLogic, Evalueserve and Max Life Insurance, discuss what roles are expected of government, the educational institutions and the business and how do we ensure that in an AI-driven India, citizens' privacy and rights remain protected?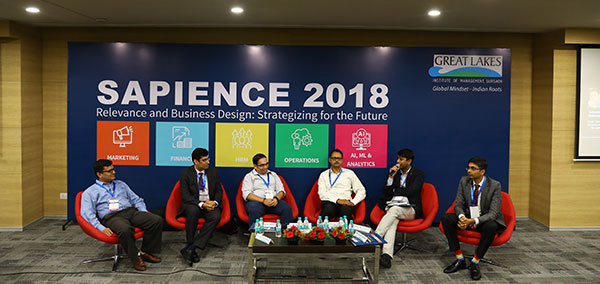 L-R: Mr. Indranath Mukherjee, Head, Strategic Analytics Team, XL Catlin, Mr. Varun Goswami, AVP and Head COE, Newgen, Mr. Hetal Shah: Head of Products and Co-Founder, Kognetics, Mr. Anurag Verma, CEO and Co-Founder, FN MathLogic, Mr. Sanjoy Roy Choudhury, Country Head and Vice President, Evalueserve, Mr. Sanjay Thawakar, VP Analytics, Max Life Insurance