Purpose Driven Business in the Post Pandemic World
The post pandemic world has taught us a great deal both in our professional and personal lives. For corporates, each day posed a fresh challenge – be it conducting business from remote locations, countering cyber security issues, managing liquidity, keeping the supply chain up and active, ensuring good mental and physical health of human resources or ensuring survival of startups. Best practices established earlier were replaced with new ones which were not imagined before. The erstwhile edition of Sapience, 'Crisis Inspiring Innovation', touched upon the innovative practices which businesses put in place to tackle the crisis. Businesses have become resilient post-pandemic by leveraging emerging technologies and strategies to build sustainable models. "Purpose Driven business in the post pandemic world" aims to deliberate upon these practices.
Date: 24th Nov 2021 to 9th Dec 2021
Mode: Online
Keynote Address
24th Nov, 2021 | Wednesday | 12:30 PM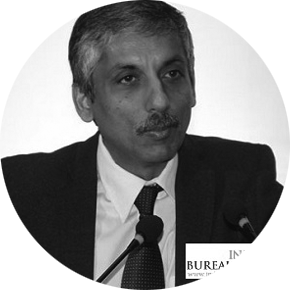 Mr. Sudhir Rajpal
ACS - Civil Aviation Department, CEO - Gurugram Metropolitan Development Authority & CEO - Faridabad Metropolitan Development Authority.

Marketing
25th Nov, 2021 | Thursday | 6:00-7:30 PM
The COVID-19 pandemic upended a marketer's playbook, challenging the existing rules about customer relationships and building brands. While most brands are mulling over how to reposition themselves and best serve their stakeholders, some are positioned to remain steadfast in one critical dimension—their purpose. These companies inherently understand why they exist and who they are best built to serve—from their customers and workforces to the community—regardless of what they sell today.
PANELISTS:
Mr. Kapil Chanana, Chief Growth Officer, Eupheus Learning
Mr. Solai Shakthivel, Sr. VP - Buying & Merchandising, Metro Cash & Carry
Ms. Payel Basu, Director - Marketing, Zycus
Mr. Anurag Sharma, Vice President, Clark's Lifestyle India
Mr. Sarthak Seth, VP & CMO, Tata Realty & Infrastructure Ltd.
Moderator: Dr. Mohit Malhan, Assistant Professor - Marketing

Entrepreneurship
1st Dec, 2021 | Wednesday | 6:00-7:30 PM
Entrepreneurs solve problems faced by different sections of society through innovative products and services. The pandemic has resulted in large number of problems in almost all sectors of business. While almost all business had to change their strategies, had to close their operations for a pretty long time, impacting the investors, employers, the employees, suppliers and the customers. Many startups have started their business in the challenging times. Large number of problems have been solved in very innovative ways for the survival or growth of their business.
PANELISTS:
Ms. Shreedha Singh, Co-Founder, TAC - The Ayurveda Company.®
Mr. Udayan Bose, Founder & CEO, NetElixir
Mr. Kunnwar Vijay Parmar, Founder & CEO, Skilleit
Moderator: Prof. SK Palhan, Professor - Operations

HR & OB
2nd Dec, 2021 | Thursday | 6:00-7:30 PM
As companies are trying to be more dynamic and sustainable the role of HR has become more critical than ever. To optimize a hybrid workforce model, HR leaders are pushed to consider an array of factors, namely– structure, workflows, flexibility, adaptability, role design, and networks. They are required to redesign the work- policies, from both a human resources standpoint and a legal standpoint, while they keep the organization's best interests in their mind. Hybrid model of working was just an idea before pandemic, but post-pandemic the hybrid model has been bringing out the best of both worlds
PANELISTS:
Mr. Anmol Singh Grewal, Head - HR, Ashok Leyland
Mr. Shatrunjay Krishna, Group Head - Organisation Design, Learning & Development, GMR Group
Ms. Shonalie Gupta, Principal Consultant, ANSR
Mr. Jitendra Das, Director - HR, MoveinSync & WorkinSync
Mr. Siddharth Nagpal, Senior Professional - HR, New Development Bank
Moderator: Prof. Madhurima Mishra, Assistant Professor - HR & OB

Operations
3rd Dec, 2021 | Friday | 6:00-7:30 PM
Business operation in the current post-pandemic period was confronted with the challenges of contactless operation, new skill development for new business models, inducting lean systems, generating a new revenue stream for survival and moving forward, implementing new safety standards, adoption of new technologies, remote controlling business processes and many more. As each business grappled with its challenges, they adopted different business practices achieving the critical success factors pertinent for their growth and sustainability after the pandemic.
PANELISTS:
Mr. Prashanth Koduganty, Sr. Director, Optum Global Solutions
Mr. Akhil Srivastava, Director, AB InBev
Mr. Sethu Madhavan, Vice President, Biocon Biologistics
Mr. Jayaram Mummadi, Vice President - Projects, Zen Technologies
Moderator: Dr. Amit Karamchandani, Assistant Professor - Operations

Finance
8th Dec, 2021 | Wednesday | 6:00-7:30 PM
The pressures faced by businesses during the pandemic has had multiple financial implications. Fintech based financial models have gained prominence, newer instruments to manage liquidity and green finance have been developed and cashless transactions have also gained traction. The success of the emergent business world is reflected in the booming stock market and the increasing investor confidence in the businesses.
PANELISTS:
Mr. Jayatu Sen, Vice President, American Express
Ms. Teena Jaisinghani, Head of Credit, Axis Bank Singapore
Mr. Vineet Nagpal, Sr Executive Director & Head of Change Management, Intertrust Group
Mr. Abhinav Nehra, EVP & Head - Partnerships & New Business, Network International
Mr. Ashutosh Tiwary, Head - Credit Policy & Underwriting, Razorpay
Mr. Sandeep Das Gupta, General Manager - Finance, Mankind Pharma
Moderator: Dr. Preeti Goyal, Professor - Finance
Analytics, AI & ML
9th Dec, 2021 | Thursday | 6:00-7:30 PM
Post-pandemic, businesses are now responding to the new normal figuring out how to reconfigure supply chains and operational practices that are sustainable and resilient. New age business models will increasingly leverage new opportunities offered by digital forces enabled by cloud computing, internet of things and platform embedded AI and ML. In addition, there are new opportunities of digital blue oceans such as renewable energy, intelligent electric vehicles, augmented reality, edge computing etc.
The focus of our discussion is on how the different businesses are formulating scenarios associated with the impact of the pandemic on its employees, customers, and suppliers.
PANELISTS:
Mr. Vineet Shukla, Group VP & Head of Data, Mahindra Group
Mr. Vish Bodapati, CEO, Hedgeloop
Mr. Avinash Chandra, Senior Director, Capgemini
Ms. Aarti Bharadwaj, SVP - Analytics (APAC), Essence
Mr. Somu Vadali, Chief of Products & Data/Analytics, Hopscotch
Mr. Vinay Mantha, Head Data & Analytics, Novartis
Mr. Swapnil Tambi, Director AI & ML, BNY Mellon
Moderator: Dr. Poornima Gupta, Associate Prof. - OB & HR