Summer Internship Placement Report 2015
Cholas, PGDM Class of 2014-2016
Great Lakes Institute of Management successfully concluded its summer placements for the year 2015. The process was a resounding success with a large number of leading corporates making offers to students across diverse profiles and industries. The summer placement process for the Cholas, PGDM Class of 2014-16, saw a plethora of reputed corporates like Amazon, Barclays, Coca Cola, TCS, Dell, Royal Sundaram, Ford India, MSD, ADP India, Toyota Financial Services, Cushman & Wakefield, Michelin Tyres, Crisil, Vodafone, ICICI bank, Axis Bank to name only a few offering internship opportunities to the students from Great Lakes.
Industry Classification
Majority of the offers came from the IT/ITES sector (30%) followed by BFSI (18%), E-commerce (15%), Automobile (12%) and Manufacturing (8%). The balance offers came from the Analytics, Entertainment, Telecom, Real Estate, FMCG and Pharma/Healthcare sectors.
Classification by Industry
Classification by Function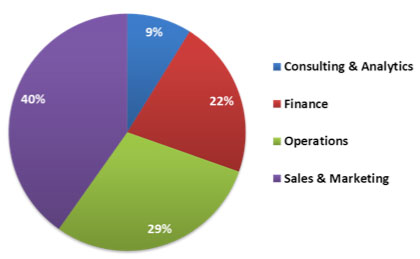 List of Companies
Companies that have selected students of PGDM 2014-16 for summer internships:
Sales and Marketing: Sales and Marketing lead the table with astounding offers made to 40% of the batch with corporates like Coca Cola, Isuzu Motors, Matrimony.Com, Michelin Tyres, TCS and Vodafone to name a few.
Finance & Consulting: The Finance domain also enjoyed a high flying internship season with several top banking and financial services corporates such as Axis Bank, Bajaj Finserv, Crisil, ICICI Bank, Ford financial services, Intequant Advisors, Isuzu Motors, Sutherland Global Services and Toyota Financial Services offering internships in this area, with astounding projects for the students.
Operations: Previous experience of many students in the IT industry attracted various industry giants in this sector to offer internships to our students. Among them prominent corporates were Amazon, Barclays, Bosch Engineering & Business Solutions, Dell, ADP India, Cushman & Wakefield, Fiat India, Royal Sundaram, Syntel, Tata Advanced Systems and Turbo Energy.
Analytics: Analytics being the flavour of the market in the recent years, premium corporates such as TCS, Cloudcherry, Crayon Data and Positive Integers offered projects in consulting and analytics to students at Great Lakes.
*List is partial.