Summer Internship Placement Report 2014
Pallavas, PGDM Class of 2015
Great Lakes Institute of Management successfully concluded its summer placements for the year 2014. The process was a resounding success with a large number of leading corporates making offers to students across diverse profiles and industries.
Industry Classification
Banking and Finance Industry offered 24% of the offers followed by IT/ITEs with 15%. The Manufacturing and FMCG sector contributed 14% & 8% respectively followed by Automobile, Telecom & Consulting with 6% each. The balance offers came from the Pharma/Healthcare, Logistics, Media & PR, Consumer Durables & Retail industry.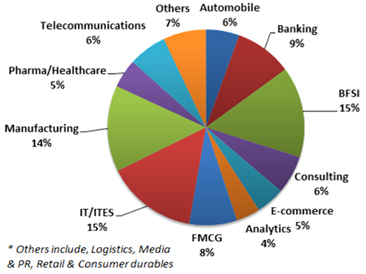 List of Companies
Companies that have selected students of PGDM 2013-15 for summer internships:
Sales and Marketing: FMCG Majors such as Coke, CavinKare, Wipro Consumer Care & Lighting, ITC and other Corporates like Michelin Tyres, Isuzu Motors, MphasiS, Ramco Systems, Optimal Strategix, Matrimony.Com, Vodafone, Edelman, Symrise to name a few have given internships in this function.
Finance & Consulting: Top banking andfinancial Corporates such as Barclays Bank, ICICI Bank, Reserve Bank of India, ADP India, Smart Advisors, Dell, First Source, Sutherland Global Services and Wealth Advisors have offered Internships in the area of Finance & Consulting.
Operations & Analytics: Apollo Hospitals, Coromandel Fertilizers, Crayon Data, Kone Elevators and TVS Logistics are some of the major corporates who have offered projects in the Operations stream.
Human Resource: HR roles have been offered by top Corporates likePhilips, Coromandel Fertilizers,Accenture and India Cements.
*List is partial.