Body:
NASMEI CONFERENCE 2017
11th Great Lakes NASMEI conference with more than 100 entries!
2nd Doctoral workshop was conducted by top faculty from Stern and CUNY
Research Grant Competition - The best proposal awarded Rs. 1 lakh.
The 11th Great Lakes NASMEI (North American Society for Marketing Education in India) International Marketing Conference was held on 22 &23 December 2017. This attracted more than 100 entries from all the top schools in India. In addition, we have also received entries from Australia, Hong Kong, Italy USA, & UK. It featured entries on all areas of marketing: consumer behaviour, modelling, strategy, services, IMC and so on. The keynote speaker was the highly distinguished Dr Priya Raghubir of the Stern School of Business, New York University.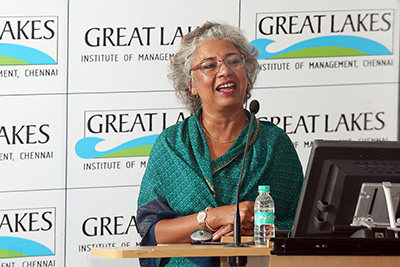 After Dr Vaidy Jayaraman flagged off the proceedings by delivering a short and sweet welcome address in his unique way, Dr Priya Raghubir spoke about her own research journey. She gave a different take on "work life balance" and spoke about how it was possible to leverage one's personal life for research inputs and have fun at the same time. The audience lapped it up.
The conference has always prided itself on the quality of the research presented and this year is no exception. Apart from this, the conference has two standout features this year and they are:
The 2nd Doctoral Workshop that preceded the conference has attracted more than 25 PhD students/junior faculty from major schools all over India and this conducted by Dr Priya Raghubir (New York University) and Dr Ana Valenzuela (City University of New York).
For the first time, there was a research grant competition which was organised to encourage top quality research in India. The best proposal was awarded Rs. 1 lakh. The second prize of Rs. 50000 was won by . The third prize of Rs. 50000 was split between –and . The judges for this competition were three eminent research scholars from the USA –Rajeev Batra (Michigan), Raj Sethuraman (SMU), and Srinivas Durvasula (Marquette).
Delegates also enjoyed a trip to Mahabalipuram and took in the sights there. All in all, it was a memorable event cherished by one and all that attended!
| | |
| --- | --- |
| Time | Day One : Friday, 22nd December 2017 |
| 09:00 - 09:20 am | Welcome Kit - Reception |
| 09:30 - 10:40 am | Inaugural Session - Lake Veeranam & Lake Mansarovar |
| 10:40-10:45 am | Tea Break |
| | | | | | |
| --- | --- | --- | --- | --- | --- |
| Lake Hussain Sagar (Financial Marketing ) | Lake Chilika (Consumer Behaviour) | Lake Dal (Green Marketing) | Lake Pushkar (Brand Management) | Lake Vemband (E-Tail & Retail ) | Lake Red Hills (Communications & Customers) |

| | | | | | | | | | | | |
| --- | --- | --- | --- | --- | --- | --- | --- | --- | --- | --- | --- |
| | Marketing of financial services: Understanding low-income segment for mobile banking services - Renu Aggarwal & Monica Rose Fortune Institute of International Business, Delhi & YMCA University, Faridabad | | Analysis of the reasons for sale of sexual vitality supplements along with health hazards associated with it and steps to be taken to govern such sale- Aniruddha Bhowmick ICFAI University | | Examining Consumer behaviour towards toxic chemical free cosmetics: Applying TRA and Schwartz values - Sita Mishra Institute of Management Technology, Ghaziabad | | Brand Coolness: Structure, Measurement, and Consequences - Rajeev Batra, Caleb Warren, Sandra Maria Correia Loureiro & Richard P. Bagozzi University of Michigan | | Fair or Unfair: The Persuasive Role Webcare Attributes in Handling Negative Reviews - Tathagata Ghosh, Amar Raju G & Souvik Roy IBS, Hyderabad | | Drivers of Customer Engagement in Online Retail: Demand and Supply Side Analysis - Sri Ranjini, Adithya N, Sundeep Srinivasan & Sriram D -Great Lakes Institute of Management, Chennai |
| | Upstream Social Security Marketing: Current Exploration and Future Directions - Saunak Bhattacharyya & Mrinalini Pandey Indian Institute of Technology (ISM) Dhanbad | | Do friends influence perceived value from a consumption experience - An experimental investigation - Diptiman Banerji, Ramendra Singh, Prashant Mishra, Rebecca G. Adams & Rajiv Kumar Indian Institute of Management Calcutta & University of North Carolina at Greensboro | | Emergence and manifestation of green consciousness and its influence on green consumption behavior - Amogh Kumbargeri IIM Ahmedabad | | Attitude as a mediator of relevance of product attributes on perception of blended brand names - Sunny Arora, Arti D. Kalro, Dinesh Sharma S. P. Jain Institute of Management and Research &Indian Institute of Management, Mumbai | | Many Roles of Private Labels: A Taxonomy of Store Brand Strategies based on consumer preference distribution - Raj Sethuraman Southern Methodist University, Dallas | | What People Drive is what drives them – Consumer Behavior patterns in the Automobile Industry? - Rachna Sharma, Prema Ramchandran & Madhavi Garikaparthy - IBS Mumbai, Indus Business School, Bengaluru & IBS Hyderabad |
| | An empiric analysis of factors influencing Mutual fund investors and risk averse behaviour in western Maharashtra - Nitin C Mali & Ashok Kurtkoti Shivaji University, Kolhapur & MITSOB, Pune | | Prototypes of power: How consumption (dis)empowers consumers - Kalyani Menon Wilfrid Laurier University | | Green Attitude of Women and their influence on the green behavior of the family - Selvalakshmi M & Kalpana Sai B Thiagarajar School of Management, Madurai & Karunya School of Management, Coimbatore | | When Branding Extends to Government Services: An Exploratory Study - Aravind R & Joshy Joseph Indian Institute of Management, Kozhikode | | Tectonic Shift in Millennials Consumer Behaviour -Is digital payments the game changer for Indian Marketers? - Manoharan.S & Rajendra Nargundkar BMS College of Engineering, Bangalore ,IIM Indore | | How Much Is an Image Worth? Airbnb Property Demand Estimation Leveraging Large Scale Image Analytics - Kannan Srinivasan Carnegie Mellon University |
| | |
| --- | --- |
| 12:15 - 12:20 pm | Tea Break |
| | | | | |
| --- | --- | --- | --- | --- |
| Lake Hussain Sagar (Travel & Tourism) | Lake Chilika (Selfie Marketing) | Lake Dal (Facebook & Marketing) | Lake Pushkar (Services Marketing) | Lake Vemband (Miscellaneous) |

| | | | | | | | | | |
| --- | --- | --- | --- | --- | --- | --- | --- | --- | --- |
| | Antecedents to Channel Choice in Travel Industry: A Qualitative Study - Sahil Jasrotia, H.G Mishra, Surabhi Koul, SMVD University, Jammu, BITS Pilani | | The New G Kin of brand equity - Selfie Marketing - Mansurali. A & Swamynathan. R PSG Institute of Management, Coimbatore | | Effect of WOM Credibility on consumer Purchase intention in Social networking sites (SNSs): A study of select Facebook fan pages of online retail sites - Kunja Sambashiva Rao & G.V.R.K Acharyulu University of Hyderabad | | Understanding third party customers justice perceptions and behavioral reactions to service failure and recovery - Niharika Gupta & Harsh V. Verma University of Delhi | | The Role of Customer and Frontline Employee Interaction in Service Value Co-Creation - Brijesh Kumar Awasthi & Navneet Bhatnagar ISB Hyderabad |
| | Segmenting the Indian Domestic Tourists on the Basis of Travel Motivations - T.K. Chatterjee & Bikramjit Rishi Institute of Management Technology, Ghaziabad | | Selfies : A dramaturgical revelation of the self - Bhupesh Manoharan & Krishanu Rakshit Indian Institute of Management Calcutta | | Facebook as a Medium for Consumer Advocacy: An Investigation using Uses & Gratifications (U&G) Perspective - Jayasimha K.R Indian Institute of Management, Indore | | EXQ (Customer Experience quality): Exploring manifestations across services and customer types - Subhadip Roy & Sunita Mall IIM Udaipur & MICA Ahmedabad | | The Role of Authenticity in Marketing Kerala Village Tourism - Jyotsna J H & Upendra Kumar Maurya Indian Institute of Technology, Madras |
| | |
| --- | --- |
| 01:20 - 02:20 pm | Lunch Break |
| 02:00 - 03:30 pm | Plenary: Research Grant Short Listed Presentations (Lake Manasarovar) |
| 03:40 - 07:00 pm | Trip to Mahabalipuram |
| | |
| --- | --- |
| Time | Day Two : 23rd December Saturday 2017 |
| | | | | |
| --- | --- | --- | --- | --- |
| Lake Hussain Sagar (Special Session) | Lake Chilika (Consumer Behaviour) | Lake Dal (Services Marketing) | Lake Pushkar (Brand Management) | Lake Vembanad (Services Marketing) |

| | | | | | | | | | |
| --- | --- | --- | --- | --- | --- | --- | --- | --- | --- |
| | Exploring the Impact of Self-Service Technologies on Retail Shoppers: A Multi-national Investigation in UK and Australia - Akiko Ueno; Piyush Sharma; Russel Kingshott Middlesex University, UK; Curtin University, Australia | | The Impact of Multifactorial Gender on the Evaluation of de-gendered Brand offerings - Nivedita Bhanja & Ritu Mehta Indian Institute of Management, Calcutta | | Frontline Employees Job Satisfaction and Intentions to Stay with the Star Hotels: A Serial Mediation Model - U. Madhan Rajan, Jayanth Jacob & Murugan Pattusamy Anna University; Australian Council for Educational Research India, New Delhi | | Brand advocacy and its antecedents - An inquiry - Susobhan Goswami TSM Madurai | | Services Outsourcing and Performance: Evidence from US Hospitals - Saurabh Mishra, Sachin B. Modi & Peter A. Salzarulo McGill University; Wayne State University & Miami University |
| | Role of Customer-Acquiescence in Business-to-Business Markets: Exploring the Antecedents and Consequences - Liane W.Y. Lee, Leslie S.C. Yip & Xubing Zhang Technological and Higher Education Institute of Hong Kong & Hong Kong Polytechnic University | | Impact of Affective Intensity of Online Reviews on Decision Comfort - Nitin Soni, Sana Ansari &Jagrook Dawra Indian Institute of Management Raipur | | A real world application of optimal pricing under three-part tariff - Manish Gangwar & Rajesh Gaurav Indian School of Business, Hyderabad | | Is Nostalgia Only for Legacy Brands: Is Old Always Gold? - Catherine Xavier The Indian School of Business, Hyderabad | | A comparative study of preferred purchase media for fashion apparels - Mallika Srivastava , Semila Fernande, Vidyasaga. A & Tanay Singh & Janhavi Kanthak SIBM Bengaluru |
| | Examining Psychological Engagement, Empowerment and Entitlement on Co-Creation in Virtual Communities - Leo Cheryl, Chou Cindy Yunhsin & Chen Tom Murdoch University, Australia ; University of Newcastle, Australia | | What makes consumers buy organic products: Determinants of purchase of organic milk - Vivek K .Dubey | | Service Recommendation and Antecedents: A Panel Data Exploration - Pravat Surya Kar GIM, Goa | | Brand Trust & Students Loyalty: Modeling a path analytic approach - Anish Yousaf, Harnoor Kaur Sandhu & Ravinder Dogra Rajalakshmi School of Business; Mittal School of Business & IITTM, Gwalior | | The Fragility of Market Leadership : Insights from a Historiographical Approach - Debanjan Mitra & Peter Golder University of Florida; Dartmouth College |
| | The Changing Role of Salespeople and the Unchanging Feeling toward Selling: Implications for Pursuit of Sales Careers by Business Graduates - Silvio Cardinali, Graziella Pacelli & Luca Ballestra Università Politecnica delle Marche, Italy | | The impact of range extension on attraction effect: validation of the relative advantage model and the reference dependent model- Pravesh Kumar Padamwar & Jagrook Dawra Indian Institute of Management, Raipur | | Power Matters: Cultural Influence on Consumer's Response to Service Failure - Himanshu Shekhar Srivastava, Gurbir Singh & Deepak Ranjan IIM Indore | | Customer Brand Engagement Fosters Brand Loyalty with special reference to App based Cab services - Neena Prasad & Preran Prasad J M Global academy of Technology, Bengaluru; M S Ramaiah Institute of Technology, Bengaluru | | Through the Looking Glass: Role of Construal Level on Description-Intensive Reviews - Swagato Chatterjee & Aruna Divya T. International Management Institute, Kolkata, Indian Institute of Management, Ahmedabad |
| | |
| --- | --- |
| 11:00 - 11:15 am | Tea Break |
| | | | | |
| --- | --- | --- | --- | --- |
| Lake Hussain Sagar (Intl and Social Marketing) | Lake Chilika (Qualitivate Research) | Lake Dal (Sales and Channel Management) | Lake Pushkar (Net Marketing | Lake Vemband (Consumer Behaviour) |

| | | | | | | | | | |
| --- | --- | --- | --- | --- | --- | --- | --- | --- | --- |
| | Marketing's role in Sustainability - Ravi Parameswaran , Krishna Parameswaran, Steven Kooy & Susan Kuzee Oakland University | | Comparing online and in store motivational factors for hedonic and utilitarian products- Anu C H & Angeline Gautami Fernando VIT University, Chennai | | Implication of Brand Strength for the Choice of Group versus Individual Sales Incentives - Wenshu Zhang & Subramanian Balachander Silberman College of Business, Fairleigh Dickinson University | | Moderation Effect of Gender on Consumer Adoption Intention towards Mobile Banking - Monica Rose & Renu Aggarwal Fortune Institute of International Business, Delhi & YMCA University, Faridabad | | Cozying up to the Kardashians: A Theory for Consumers' Affinity towards Celebrity Gossip - Jayant Nasa, Tanuka Ghoshal & Rajagopal Raghunathan Indian School of Business, Hyderabad & McCombs School of Business, UT Austin |
| | Strategies for US Business in the India Market: Ethnocentrism and Country-of-Origin- Nabarun Ghose The University of Findlay, Ohio, USA | | Sustainable Consumption: Role of Habits - Narasimhan Ramesh & Nattuvayikkal Barnabas SVKM's NMIMS University, Bangalore | | Developing promotional support as a new construct and examining its influence on customer orientation and selling skills- Harindranath R M Anna University, Chennai | | Customer Engagement in Cause Related Online Brand Communities: A Conceptual Framework - Shilpi Saxena IIT Madras | | Scarcity Promotions Customers' Negative Experiential Journey - Harikrishnan.P.K & Prem P Dewani IIM Lucknow |
| | Product Adaptation in International Marketing: A Hype, Hope or Necessity - Megha Kandoi & Sunita Kumar Christ University, Bangalore | | Service-Dominant Logic and Value Co-Creation:"(How) does 'phenomenological hermeneutic' matter? - Sudeep Rohit & Mayank Kumar ,Indian Institute of Management, Trichy | | Multi-Channel Marketing and its impact on Customer Satisfaction - Chetan Srivastava & Raja Debashis ; University of Hyderabad, Hyderabad. | | Exploring antecedents of payment options in online retail- Deepak Ranjan, Manoj Motiani & Himanshu Shekhar Srivastava IIM Indore | | Role of Social media marketing in Indian Business Retail: Current Research and Implications - Gursimranjit Singh, Priyanka Singh & Maninder Singh Indian Institute of Management, Udaipur; Amritsar College of Engineering & Technology, Amritsar; IKG Punjab Technical University |
| | |
| --- | --- |
| 12:45 - 01:20 pm | Lunch Break |
| | | | | |
| --- | --- | --- | --- | --- |
| Lake Hussain Sagar (Social Marketing) | Lake Chilika (Modelling ) | Lake Dal (Impluse Buying) | Lake Pushkar (Retailing) | Lake Vemband (Marketing Strategy) |

| | | | | | | | | | |
| --- | --- | --- | --- | --- | --- | --- | --- | --- | --- |
| | Handling Student Depression in Indian College Campuses: Paromita Goswami, Anindita Chaudhuri & Himadri Roy Chaudhuri Shiv Nadar University; University of Calcutta; International Management Institute, Kolkata | | Intra-household preference heterogeneity, shared consumption, and household demand- Vedha Ponnappan, Avadhoot Jathar, Srinivas Prakhya Indian Institute of Management Bangalore | | The Multidimensional Nature of Social Environment and its Impact on Customer Shopping Experience and Impulse Buying - Priyanka Singh , Maninder Singh & Gursimranjit Singh IKG Punjab Technical University; Indian Institute of Management, Udaipur; Amritsar College of Engineering & Technology, Amritsar | | Effects of online store layout on variety seeking behaviour - Aishwarya Ramasundaram & Avinash Mulky ; Indian Institute of Management,Bangalore | | Relational Impact of Healthcare Employee's Personal Resources on Patient's Emotion - Musarrat Shaheen,Farrah Zeba & Ritu Gupta Indian School of Business, Hyderabad & IFHE University |
| | Role of Anthropomorphization on Pro-Social Behavior: Exploring Moderating Effect of Need for Cognition- Archit Vinod Tapar, Ashish Sadh, Aditya Billore & Abhishek Mishra Indian Institute of Management Indore | | A Simple Procedure to Correct for Measurement Error in Two-Group Mean Comparison Studies - Srinivas Durvasula, Subhash Sharma & Manoj Malhotra Marquette University; University of South Carolina; Western Reserve University | | Forecasting Shopping Apps based Impulsive Buying Behavior among Shoppers Using Neural Network Technique - Priyanka Gupta & Sanjeev Prashar Indian Institute of Management Raipur | | Agree to Disagree: Role of Values Alignment in Franchising Relationships - Joseph Matthes & Amit Saini University of Nebraska-Lincoln | | Understanding the Effects of Diverse Human Capital on Firm Performance - Ruchi Galande Indian School of Business, Hyderabad |
| | Emergence of rural periodic markets in subsistence economies: An exploratory study - Satyam & Rajesh K. Aithal Jindal Global Business School; Indian Institute of management, Lucknow | | Changing the Power Equation: A Structural Analysis of the Impact of Used Cars on the Automobile Distribution - Dinakar Jayarajan , S. Siddarth & Jorge Silva-Risso IIT Stuart School of Business, Chicago, University of Southern California | | The Impact of Sales Promotions on Impulse Buying: An Empirical Investigation - Nirmalya Bandypadhyay & Bharadhwaj Sivakumaran IIM, Rohtak ; Great Lakes Institute of Management, Chennai | | E-tailer versus Brand: The E-commerce tussle - Preetha Menon & Raman. R Symbiosis Institute of Business Management, Pune | | Marketing Strategy, Decision Science, and Strategic Cognition: An Integrative Framework and Research Agenda - Sreedhar Madhavaram & Radha Appan Cleveland State University, USA |
| | |
| --- | --- |
| 02:50 - 03:00 pm | Tea Break |
| | | | | |
| --- | --- | --- | --- | --- |
| Lake Hussain Sagar (Net and Social Media Marketing) | Lake Chilika (Services Marketing) | Lake Dal (Consumer Behaviour) | Lake Pushkar (Miscellaneous) | Lake Vembanad (Miscellaneous) |

| | | | | | | | | | |
| --- | --- | --- | --- | --- | --- | --- | --- | --- | --- |
| | Manifestations of psychological contract violation influencing word of mouth intention of mobile shopping apps: Retailer reputation as moderator - Prasanta Kr Chopdar & V.J.Sivakumar National Institute of Technology, Tiruchirappalli | | Investigating the effect of service quality and satisfaction on consumer behavioral intentions with respect to online shopping in India - Habeeb Syed & Francis Sudhakar NIT Warangal | | Green Purchase Behavior (GPB): Integrating New Constructs in a New Model - Sarita Uniyal & Subhadip Indian Institute of Management, Udaipur | | Competitor intelligence: Inferring innovation and marketing capabilities from public data for B2B firms - Ashish S.Galande & Sudhir Voleti Indian School of Business, Hyderabad | | The Use of Influence Strategies, Trust and Commitment to Curb Opportunism in Marketing Channels: The Moderating Effect of Relational Governance Measures - Ashwin J. Baliga & Upendra Kumar Maurya IIT Madras |
| | Winds of change: SCRM fuelled Customer Engagement Value &Increase the Firms Profitability - Sukanya Roy IIM Udaipur | | Service Quality and Attitudinal Loyalty: A Moderated Mediation Model of Customer Satisfaction and Customer Trust - Mahesh Ramalingam , Murugan Pattusamy & Jyothi Chepur Institute of Management Technology, Hyderabad; Australian Council for Educational Research, New Delhi, | | I care but I don't buy –Analyzing factors that inhibit consumers from purchasing environmentally friendly appliances - Gauri Joshi & Pratima Sheorey Symbiosis centre for management and human resource development, Pune | | The Dominance - Prestige model can predict outcomes in buyer - seller interactions that entail status asymmetries - Shirish Panchal & Tripat Gill Wilfrid Laurier University | | Unenlightened Aspects of Employer Branding - Gurbir Singh, Himanshu Shekhar Srivastava & Arti Sharma Indian Institute of Management Indore |
| | Patterns of online grocery purchase: first and repeat buyers - Wasimakram Binnal & Anjula Gurtoo Indian Institute of Science, Bengaluru | | Consumer Dissatisfaction, Causal Attributions and Complaining Behaviour: An investigation among Indian Consumers - Srinivasan.K Jansons School of Business, Coimbatore | | Demystifying the Marketing Actions for Dying Art and Culture - Swati Sisodia, Ashish S. Galande & Seshadri. V. R Indian School of Business, Hyderabad | | Coalition identification for loyalty programs - Banumathy S & Swetha Jayalakshmi J ; PSG College of technology, Coimbatore | | Retargeted Advertisements- An Exploratory Study - Geetha. M Indian Institute of Management, Ahmedabad |