Choosing the right PGDM course
Have you just earned your undergraduate degree and are now looking forward to do an MBA? Or have you worked for a few years, gained a fair amount of work experience, and now wish to elevate your career to higher levels in management? When you explore your options for an MBA, you realize that there's another name to MBA courses offered by some of the business schools you're aspiring for. Simply put, you come across the PGDM, which is a Diploma program in Management, whereas what you primarily seek is an MBA degree. The name might make you wonder if it's really equivalent to an MBA or not. So what is PGDM? And how is it different (or similar) to an MBA degree? Let's find out.
What is a PGDM course?
PGDM stands for Post Graduate Diploma in Management – a two-year business management program that caters to industry requirements, and helps management aspirants develop relevant hard skills and soft skills to transform into an industry-ready management professional. The reason why it is a Diploma program and not a Degree is the fact that only Universities governed by the University Grants Commission (UGC) are permitted to award Degrees. Private business schools mainly governed by the All India Council for Technical Education (AICTE), and standalone ones can award diplomas instead of degrees. Is it equivalent to an MBA? Absolutely! We can safely say that PGDM programs add value beyond regular MBA curriculum, and that is what highly demanding recruiters look for.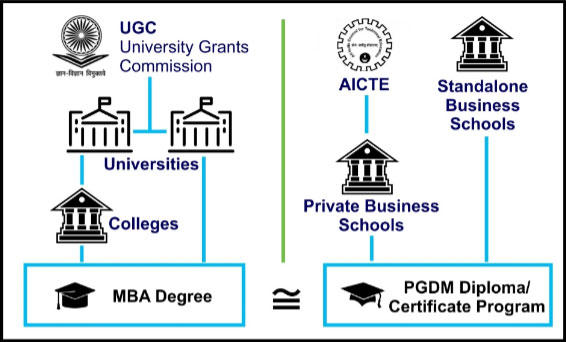 Also read: Difference between MBA & PGDM
What do MBA aspirants look for?
A high profile management job in a global organization is what most MBA aspirants aspire for. Many of them want jobs that would present ample opportunities to showcase their talent and skills, challenge their intellect and knowledge, and satisfy their ambitious streak. The PGDM program prepares them for this with courses on different business functions such as Marketing, Operations, Finance, Business Analytics, HR & Organizational Behavior. The program also focuses on shaping progressive and mature leaders and therefore, also trains them in soft skills, team building and communication.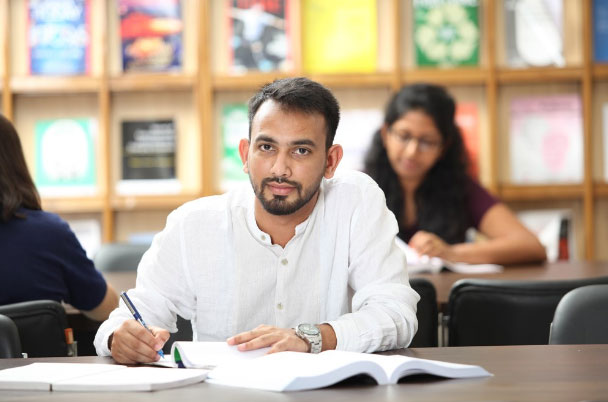 Choosing the right MBA or PGDM program
It is crucial that you, as an aspirant, pick the right program and the right B-school that suit your career needs. You must aim to get in to a top B-school in order to derive the maximum ROI from the two years you spend there. Going for a full time PGDM course is a huge investment and a once in a lifetime opportunity. Therefore, it is important that you make a well informed decision. The following 7 criteria can help you choose the best PGDM or MBA course for you:
| | | |
| --- | --- | --- |
| Ranks | Name of the B-school | Location |
| 1 | Indian Institute of Management | Ahmedabad |
| 8 | Indian Institute of Technology | New Delhi |
| 9 | Xavier Labour Relations Institute | Jamshedpur |
| 11 | Indian Institute of Technology | Mumbai |
| 18 | S P Jain Institute of Management & Research | Mumbai |
| 23 | Great Lakes Institute of Management | Chennai |
| 25 | ICFAI Foundation for Higher Education | Hyderabad |
Rankings & Accreditations:

Accreditations such as AMBA, AACSB, EQUIS and NBA, awarded by national & international bodies, and are considered as a benchmark of overall quality in the management education sphere. These accreditations take into account various aspects such as quality of faculty, curriculum, infrastructure, teaching methodology and so on for benchmarking.

Rankings can also help in gauging the quality of a program. B-schools ranking are done by both Government as well as private bodies. The NIRF ranking done by HRD ministry of India is a reliable source for this information. Rankings by publications such as Outlook India, Business Today & BusinessWorld can also be considered.

Some of the top colleges in India, for pursuing PGDM programs, ranked under NIRF rankings 2020 are listed below:

Curriculum and Faculty:

A top notch PGDM program is known for its industry oriented curriculum. For instance, businesses now-a-days are heavily data-driven and demand knowledge in emerging technology such as Artificial Intelligence, Machine Learning, Business Analytics, and Design Thinking. To stay ahead in the competitive and agile business environment, any management professional must have a fair amount of knowledge in these areas.

Faculty who are actively involved in research and have a deep understanding of the industry through experience offer a promising value proposition to students in the form of relevance and innovative teaching techniques. You can openly explore the online faculty directory of various b-schools to access this information.

Alumni & Peer group:

One essential part of the MBA journey is the peer group. A good peer group must have students from diverse backgrounds so they can bring different perspectives in the classroom. Look at class profiles of the current PGDM students of b-schools that you're considering and understand the myriad avenues available for you to learn.

Also, look up the alumni on the websites of these institutions or simply search for them on LinkedIn, see what they are doing, connect with them and understand how the program has benefited them. It's always a good idea to get in touch with a few alumni and students to get a first-hand review of their experience.

Summer Internship and Live Project opportunities:

Summer Internships and live projects are intrinsic parts of a high quality PGDM course. Corporates hire students as interns and students get to work on real-life business problems under the mentorship of experienced industry professionals. This hands-on experience provides an understanding of business processes, and acts as a platform to apply and implement management concepts and models.

Students can also approach various companies, volunteer to work on a live consulting project and develop solutions to their business problem. The value proposition is two-fold – A: The students get a practical hands-on experience at performing necessary research, processing information and presenting a viable solution to the company, and B: The company gets an innovative out-of-the-box solution to their business needs, with fresh perspectives infused.

International Immersion/Student Exchange:

International exposure can add significant value to your MBA. A b-school that offers International Immersion or Student Exchange programs increases the value proposition of its PGDM program manifold by providing an avenue for its students to experience the culture of a foreign land, interact with people from different countries, understand their behavior and add a global perspective to their management skills.

Unique Proposition:

Identify what factors make the b-school stand out. For instance, MICA is a go-to institute for those who wish to pursue a PGDM in strategic marketing and communications. The IIFT specializes in Foreign Trade. Great Lakes Institute of Management offers a complete specialization in Artificial Intelligence, Machine Learning, Analytics and Blockchain to major in. This is where aspirants with specific goals in mind shortlist b-schools into their consideration set. You must look out for such value propositions that will benefit your career objectives the in the long run.

Placement Reports:

This is the most sought-after parameter while choosing a PGDM course or an MBA offered by a particular b-school. Most commonly, aspirants first look for the average, highest and lowest salaries offered. For many, the search stops there. While this is important in calculating the return on investment, it's not the only factor that needs to be taken into account. One must look at the companies that visit, the industries they represent, and the roles they bring for the students. Also, go back to your alumni research and see where they have reached after a few years of graduating. This will paint a long-term picture of how the program will actually benefit you.
The Great Lakes PGDM:
Great Lakes offers the two-year full time PGDM course at both campuses – Chennai and Gurgaon. The Great Lakes PGDM provides a globally benchmarked curriculum, world class faculty and a peer group from diverse domains, which transforms young professionals and high performing graduates into Business Ready Managers. Some of the highlights of the program include Karma Yoga – an Experiential Leadership program, a fully mentored Empirical Study, Live Projects, an 8-week summer internship and significant industry interaction with thought leaders and CXOs.
The institute also offers a semester abroad at University of Bordeaux, France and IÉSEG School of Management, Paris and Lille at the end of 2nd year. The Great Lakes PGDM is approved by AICTE and has the prestigious global accreditation from AMBA (UK) at both campuses, along with the NBA accreditation as well for Chennai campus. For its PGDM program, Great Lakes accepts GMAT/CAT/XAT/CMAT scores and shortlists on the merits of the overall profile of a candidate.
Learn more about the PGDM course, and other full time programs, at Great Lakes Institute of Management, Chennai and Gurgaon and all the best for your MBA Journey!
About the Author:
Ms. Nidhi Saini is a Senior Manager for Corporate Communications at Great Lakes Institute of Management. She has been associated with Great Lakes for over 6 years and has been a key public relations liaison for the school. She has also forayed into the areas of Branding and Events through numerous Video Content, Alumni Engagement Initiatives, and even writing her own articles, having a penchant for storytelling and writing. With nearly 10 years of experience in working with numerous Education and Human Resources organizations and clients, including International Management Institute (IMI), Manipal University, Career Launcher and Randstad India, Ms. Saini comes with rich insights on the changing requirements of MBA aspirants and recruiters alike. Ms. Saini has also delivered a talk on "PR Tips for Start-Ups" at a seminar organized by GBG (Google Business Group).