Home
Great Lakes, Gurgaon

PROGRAMS

FACULTY

PLACEMENTS
Vikings, PGPM CLASS OF 2015
The PGPM program at the Gurgaon campus had its best ever placement season with a diverse set of companies across the spectrum recruiting students. The Class of 2015, the Vikings, had 65 students with a rich work experience across industries ranging from 2 to 6 years and made it an attractive proposition for recruiters seeking business ready talent. There has been growth in terms of new recruiters, the average compensation level as well as the highest salary on campus. A notable highlight of the placements was the participation of both well-established marquee companies like Accenture, American Express, Cognizant, Deloitte, HCL, Genpact, Oracle, etc., as well as fast growing Internet businesses and associated companies like Groupon, Droom, Makaan, Shopclues, Delhivery, PayU, Tolexo, etc. HCL, Genpact, Delhivery and Shopclues were the largest recruiters with Genpact and Delhivery also being first time recruiters.
Industry Distribution
Function Distribution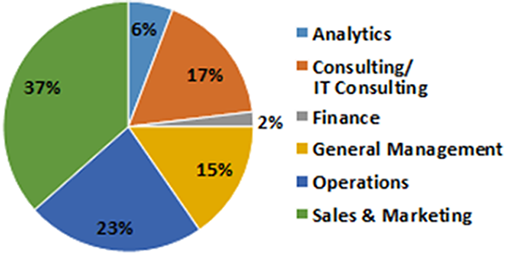 IT/ITES continued to be the largest recruiter followed by E-Commerce/ Internet Business. While a majority of the class were from IT/ITES background many students transitioned to roles in different sectors with IT/ITES accounting for only 37% of the final recruitment. E-Commerce/ Internet Business and associated supply chain/logistics providers together hired 38% of the students reflecting the fast paced growth in these sectors. In terms of functional roles, Sales & Marketing (37%) continued to be the largest area followed by Operations (23%) and Consulting (17%).
CTC Range (INR/Annum)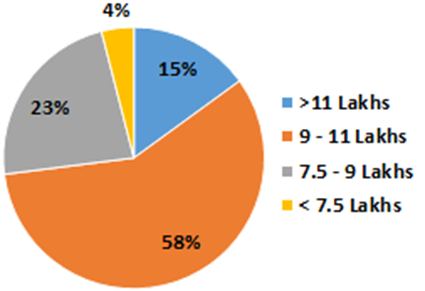 Function Distribution
The average CTC stood at INR 9.60 Lakhs/annum with 58% of the offered students receiving 9-11 Lakhs per annum and 15% receiving over INR 11 Lakhs per annum. Consulting major Deloitte made the highest domestic offer of INR 13.45 Lakhs per annum for a Consultant role.
List of Participating Companies*
Companies that participated in the placement process of PGPM 2014-15 at Great Lakes, Gurgaon were
| | | |
| --- | --- | --- |
| Accenture | Great Learning | MuSigma |
| American Express | Groupon | Oracle |
| Aon Hewitt | HCL | Oxigen |
| Black n Green | HT Media | PagalGuy |
| Cognizant | Infozech | Pay U |
| CX Partners | Institute of Personal Leadership | Servd |
| Delhivery | Jabong | Shop Clues |
| Deloitte US | Knowlarity | Smartican |
| Droom | Lava International | Tecnova |
| E Valueserve | Makaan | Tolexo |
| Genpact | Mauj Mobile | Wildbox Technologies |
| GoFrugal | Maveric | Zomato |
*Partial List
Off-campus offers have also been made by Limeroad, Testbook.com, Kartrocket, Pacific University, etc.