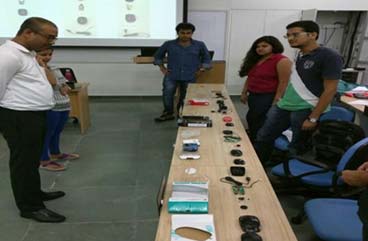 Mr Gauranga De regularly conducts 'Tear Down' workshops for the Great Lakes PGPM and PGDM students, every year as a part of the Management Consulting course offered by Dr Suresh Srinivasan, Professor Strategy & Accounting at Great Lakes. It is one of the most sought after courses and Mr De's workshop is highly appreciated by the students for the practical exposure it gives to students for real world problem solving.
Mr Gaurnaga De has also been delivering the 'Product Development' module of this course for more than four years. The Management Consulting course is modular course and brings together industry specialists in consulting, delivering various facets of the management consulting paradigm and value creation to the client.
Mr Gauranga De oversees McKinsey's Product Development Centre of Competence across 6 countries, 9 labs and 28 high calibre professionals to deliver impact ensuring development efficiency, technology, quality, service, resource development, enablement & management.
Mr Gauranga De is a senior Product Development consultant with 22 years of deep expertise on cost and value aspects of product, product development process and organization to efficiently enhance topline and bottomline. Have driven end-to-end product development including customer insight analysis, product value-cost optimization, PLM-PDM efficiency improvement, Innovation Management, R&D Planning, Benchmarking, Tear-down research, Product & System Reverse Engineering, rapid costing. Lead development & implementation of Strategic technical solutions in more than 50 client situations aligning organizational objectives to promote revenue, profit & growth.
Recent News
Prof. Vidya Mahambare speaks Live on Bloomberg Markets - Asia
Read More
The difference education makes to what the salaried earn in India - Prof. Vidya Mahambare and Sowmya Dhanaraj
Read More
Contact Us
Great Lakes Institute of Management,
Prince infocity II,
Ist floor,
283/3, rajiv gandhi salai (OMR),
Kandanchavadi,
Chennai - 600096

+91-44-6699-9300

+91-44-6699-9301