SAPIENCE 2017 – HR – ANNUAL MANAGEMENT CONCLAVE
Panelists included Top HR leaders from leading organizations such as Lava International, Mrs. Bector's Cremica, Virtusa Polaris, Russel Reynolds Associates, Mercer and so on.
Key Takeaways:



The future leaders should be tech-savvy and nimble enough to take advantage of all of the latest technologies.
Effective Communication and Employee Engagement play a key role in dealing with the challenges of 24*7 work environment.
HR analytics crucial for having a customized workforce for the organizations.
Great Lakes Institute of Management, Gurgaon, hosted SAPIENCE 2017 HR Conclave at its campus. The Conclave was graced by the presence of Mr Pramod Sadarjoshi, Senior Director-HCM & Transformation, Asia-Pacific, ORACLE as the keynote speaker. The theme of the HR Conclave was "The future of work in the fourth industrial revolution". The Conclave witnessed 7 distinguished industry leaders discussing, how to face the challenges of a 24*7 work environment and how to leverage HR Analytics for optimizing organizational performance.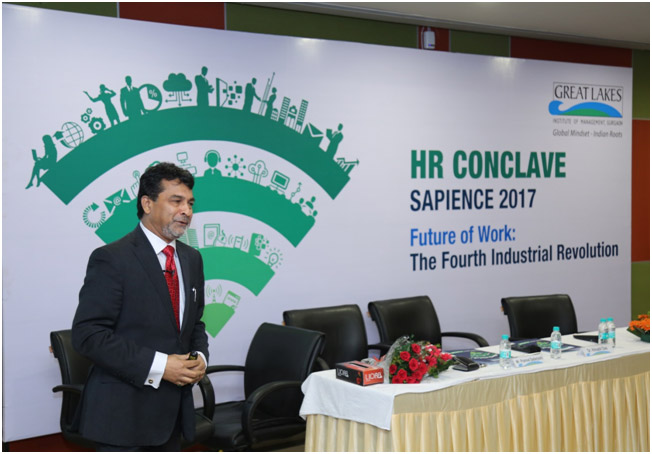 Mr. Pramod Sadarjoshi, Senior Director – HCM & Transformation, Asia-Pacific, ORACLE
Delivering the keynote address, Mr. Pramod Sadarjoshi, Senior Director – HCM & Transformation, Asia-Pacific, ORACLE, advised students to have clarity in mind about where they want be in life and plan their steps accordingly. He said that, "we live in a time where technology has become an important part of our lives. We are living in the world of web and where the real challenge is to manage our time, prioritise and devise mechanisms to juggle multiple things. The leaders today have to be tech-savvy. For instance, the need of the hour is to be able to use Data analytics for predicting the future trends and thereby acting accordingly to retain and gain customers."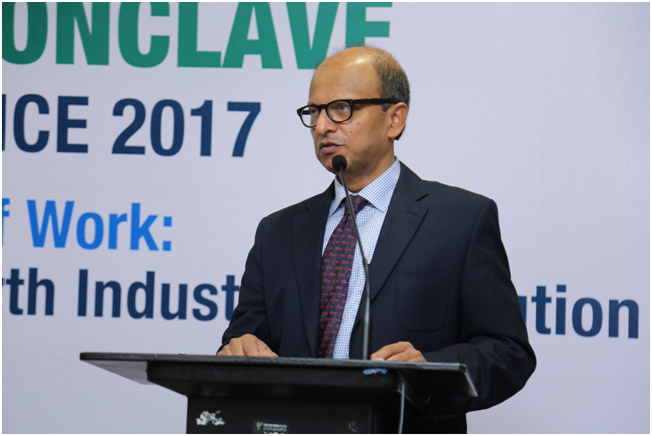 Dr. Himadri Das, Director, Great Lakes Institute of Management, Gurgaon
Addressing the gathering, Dr. Himadri Das, Director, Great Lakes Institute of Management, Gurgaon, shared, "the role of HR is becoming more important and challenging today than it ever was, especially high quality intellectual capital HR. The growth of services has witnessed a move from blue collar to white collar. The challenges in white collar jobs are very different from the challenges of blue collar jobs and in a lot ways it is more challenging to maximize productivity of very high calibre intellectual white collar workforce across all the sectors and all geographies of the world. Thus, the theme of Sapience2017 HR Conclave is very relevant in the current industry scenario".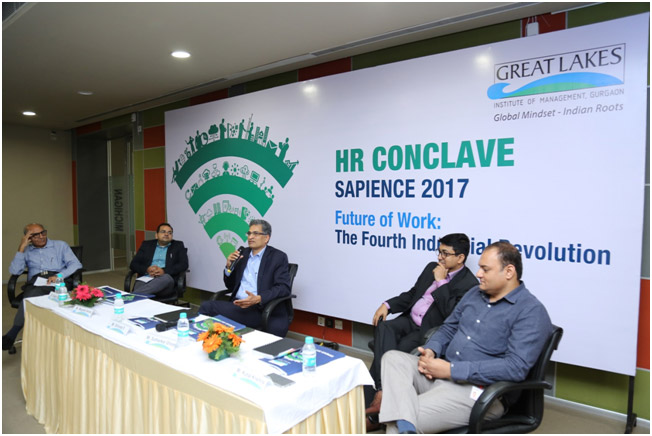 Panel Discussion: HR Challenges in 24/7 Work Environment
Panelists:
Mr. Mayank Arora, Vice President Sales & HR, Mrs. Bector's Cremica
Mr. Subhankar Ghose, Chief People Officer, Zoom Insurance Brokers Pvt Ltd
Mr. Kunal Krishna, VP & Head HR, Lava International
Mr. Srinivas S, Partner and Leader, Mercer
The discussion revolved around the challenges that HR managers faced when they were to deal with circumstances pertaining to the requirement for 24*7 working environment with the added premise of different time zones, geographies and varied cultures. These challenges are - Growing attrition rates, shift timing roster differences for employees (with a highlight on female friendly work environments) along with importance given to the safety and security concerns .The Panel then discussed various methods and techniques for engaging with employees in such environments such as having video conferencing to avoid communication gaps, frequent Town Hall meetings throughout all shifts to promote cross organizational interaction and conducting frequent employee training programs. The panel raised the concern regarding knowing the employee progress on a frequent and individual basis in the 24*7 work environment and concluded that this can be solved with the use of analytics and machine learning algorithms.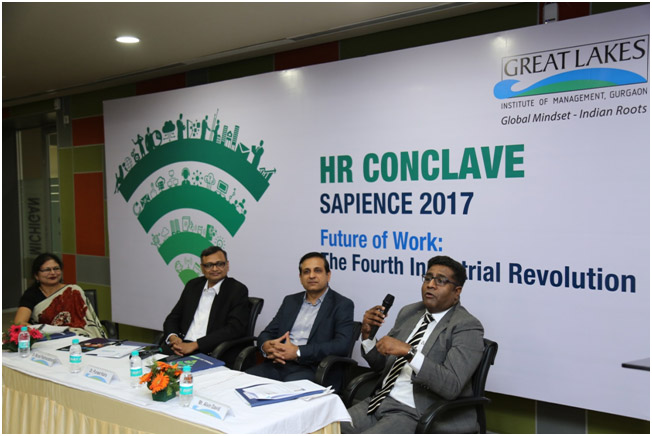 Panel Discussion:Leveraging HR Analytics for Optimizing Organizational Performance
Panelists:
Dr. Murli Padmanabhan, Sr. VP & Head Talent Management – Virtusa Polaris
Mr. Puneet Kalra, Managing Director, Russel Reynolds Associates
Mr. Alvin David, GM HR, Newgen Software
The panelists said that huge amounts of Data is available on various social media platforms and today there are tools that can extract all the information about the particular candidate available on the web. The HR professionals today can gain from analytics largely and create strategies using sophisticated tools (Predictive Analysis for recruitment and attrition, Cognitive Analysis for talent engagement and employment, and Prescriptive Analysis for learning and development) to optimize organization performance. Further, the panel discussed the various challenges faced while implementing HR Analytics such as, firstly, Digital footprint –there is so much information available on social media that accurate interpretation of data is the biggest challenge, secondly, Investment – huge investment in market research and analytics is required and it is difficult to show ROI, thirdly, Dimension Predictability – it is difficult to judge from the data and predict the potential of the candidate and lastly, Cleansing of data – It is essential to change the raw data to usable form to carry out analysis. In the end, the panel opined that the world is complex and competitive, longevity of success has become shorter and organizations have turned agile. HR analytics is the only way to predict the future trends and requirements and have an optimally aligned workforce.